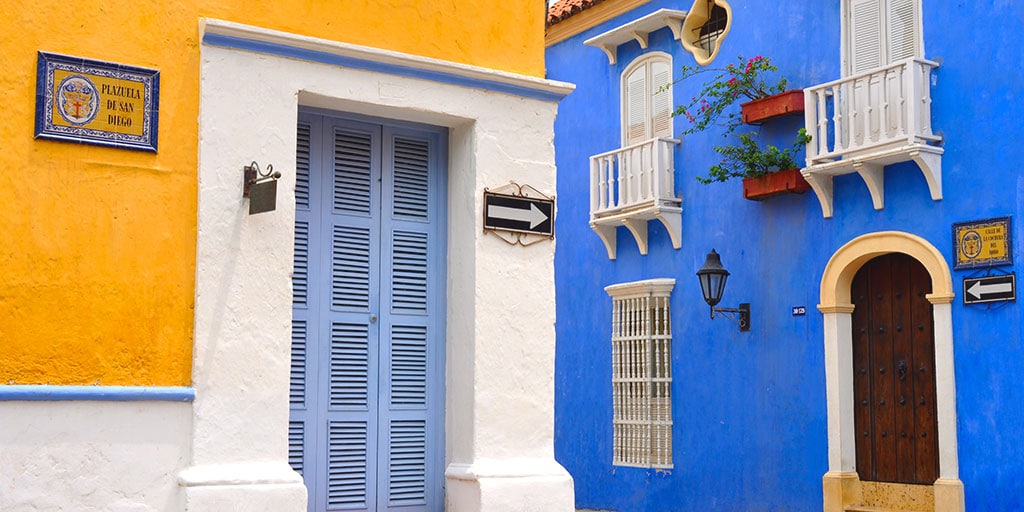 Plaza San Diego Cartagena
Plaza San Diego is yet another charming little square in the heart of Cartagena's Walled City. It has earned a reputation as a quiet little spot where folks vacationing in Cartagena and locals alike can take a breather before venturing off to work or out to explore the wonders of Cartagena.
As with pretty much anywhere else in Cartagena you'll be surrounded by brightly colored buildings styled in traditional Spanish Colonial shapes: sculpted archways, filigreed balconies, explosions of bougainvillea and other flowering greenery hanging over railings and crawling up walls.
In fact, one of the most gorgeous buildings in Plaza San Diego is The Bolivar University of Fine Arts. It sits at the edge of the plaza and most visitors mistake it for a church because of the ornate front and stained glass. But it's here that students learn to become the next generation of master artists like those who transformed Cartagena in the past from a bustling little village into the breathtaking Caribbean heart of the Spanish Empire.
Upon visiting Plaza San Diego you'll find plenty of shaded areas to simply sit and pass the time with a cerveza or mojito but if you're a little more ambitious there's also plenty to see and do as well.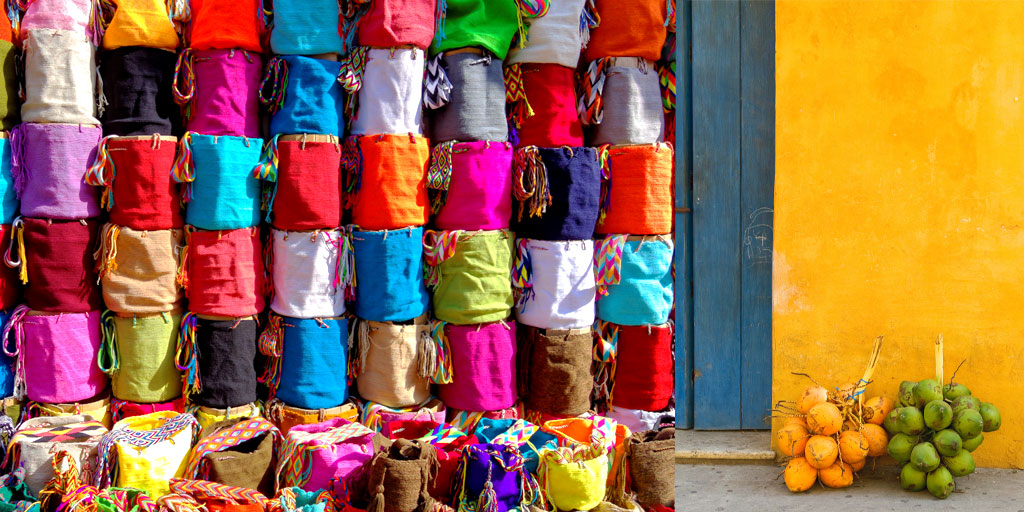 Live Entertainment and Dining
While there are no standing venues within Plaza San Diego itself, you'll often see musicians setting up shop in the shade and busking for their daily bread. You may even be lucky enough to spot a dance troupe or a unique visual artist as well. Feel free to sit on one of the benches or at nearby tables and simply people watch while the lazy Caribbean day crawls along at its leisurely pace.
Like many of the more laid back tourist destinations in South America, not much happens in the hazy morning hours. Keep that in mind when planning your visit to Plaza San Diego in Cartagena because most of the shops and restaurants in and around the square don't open until noon. But when they do you're treated to myriad options from small ceviche joints to traditional sit down restaurants and even a few Colombian "pubs" serving cheap Caribbean comfort food and cold beer.
Unique Shopping Venues
Plaza San Diego in Cartagena is also a great place to snag a few deals if you're in the market for some souvenirs. There are several quaint little shops around the edges of the plaza and you'll also find a variety of street vendors hawking their wares on any given day. Unlike many of the other more touristy locations (like near the Clock Tower) you can usually find or haggle for a better price on locally-produced crafts, clothing, art, and gift items.
When the Sun Goes Down . . .
When the sun starts to slide beneath the horizon, Plaza San Diego becomes a different place entirely. The population triples and the restaurants fill. It's still an excellent place to grab an evening snack before checking out Cartagena's legendary nightlife or having a meal with friends to put the perfect end to an excellent day but the people watching gets even better.
If you like that "local vibe" you get when walking around foreign cities with nothing between you and the culture but your camera lens, we urge you to make the most of your vacation by staying at one of our gorgeous luxury rental homes in Cartagena. When you live like a local your vacation in Cartagena becomes so much more than another vanilla getaway—it becomes
Map of Old City Cartagena
Inquire about your luxury vacation rental home in Cartagena today.