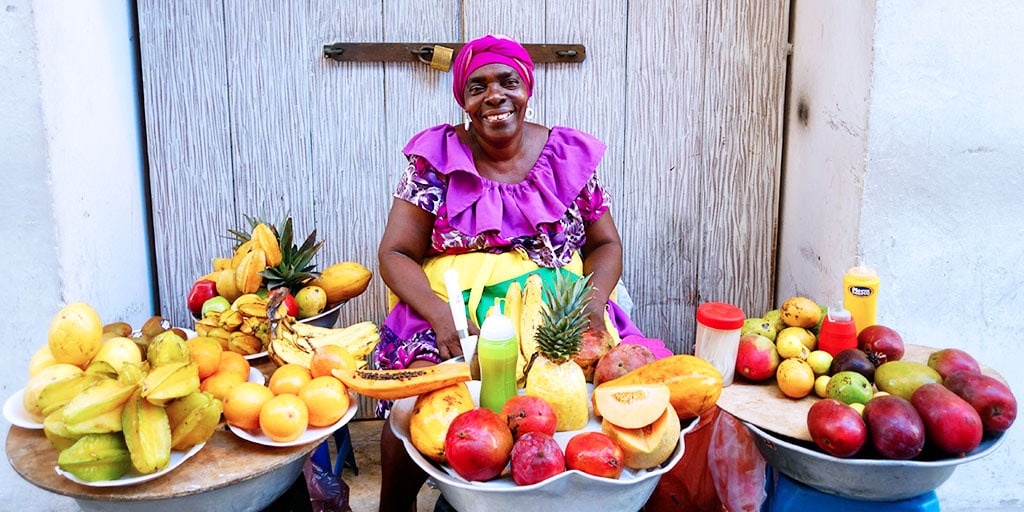 The Palenqueras of Cartagena
Cartagena, Colombia is full of eye-popping images that can steal the breath straight from any visitor's mouth. Ornate Spanish colonial architecture dripping with tropical flowers, the majestic fortified wall around the Old City presiding over the jeweled Caribbean, the Castillo San Felipe de Barajas atop the hill of San Lazaro—these are just a few reasons Cartagena is one of the most photographed cities in Colombia. But the most interesting sights you'll see in the Cartagena are not things but a people. The Palenqueras of Cartagena are as much a fixture in the city as the Catedral de San Pedro Claver.
When you vacation in Cartagena you'll spot these Colombian women dressed in bright costumes, balancing bowls of fruit atop their heads on any street through the Old City. They tend to cluster in shady spots in the squares and parks where they chat up travelers, pose for photos, and serve up some of the sweetest fruits you'll ever eat. But there's more to these iconic women than meets the eye.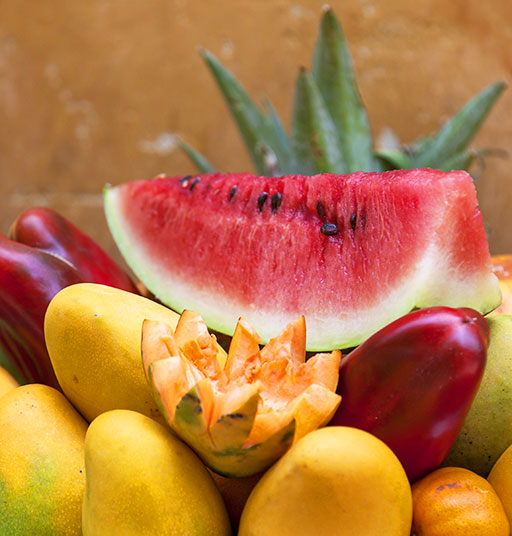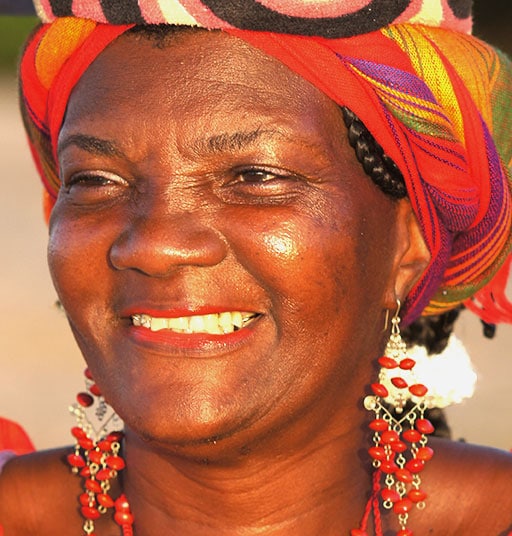 The Origin of the Palenqueras
It's not uncommon to see fruit sellers on the street of any city in South America but the Palenqueras of Cartagena have a very uncommon history. Originally these women came from San Bassilo de Palenque—a small town to the south of Cartagena. That's important because this particular town is widely considered to be one of the first "free" towns in The New World. It was founded during the Colonial Era by runaway slaves beholden to no government.
Villagers were so successful—and so resourceful—that the town was able to negotiate its freedom! In 1691 a Royal Decree established the village as its own entity. This made residents the first free Africans in the Americas.
From Poor Street Vendors to Cultural Icons
Before the modern era, these women would trek into Cartagena everyday loaded with fruit harvested from trees surrounding their native Palenque (village). They carried this bounty on top of their heads in hand-woven baskets, selling it for a few coins here and there to support their families back home. They were so common that their bright dresses and smiling faces became an integral part of the very fabric of the city.
Modern Palenqueras do still sell fruit (in bowls now, not baskets) and it's cheap! Roughly 5,000 Colombian pesos ($2.00 US) will buy you a heaping plate of succulent heaven prepared fresh before your eyes. (Sampling some is one of the best ways to vacation in Cartagena like a local rather than simply seeing it as a tourist.) However, much of their income comes from the tourist trade—tips they earn for providing authentic flare for Americans and Europeans vacationing in modern Cartagena.
Interested in other must-see sights? When you stay at one of our luxury vacation rental homes in Cartagena, we can suggest some of the best places to meet these Palenqueras as well assist with curating your own must-see list of attractions in Cartagena.