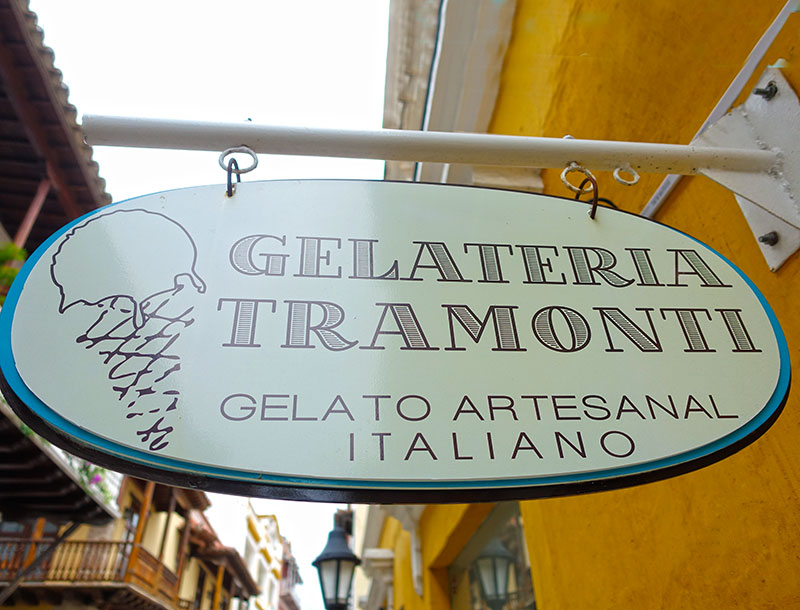 An Amazing Gastronomic Melting Pot
You might expect that a city like Cartagena (which has become an amazing gastronomic melting pot) would have some sinful temptations for those of us who crave something sweet. And you'd be right about that. What better way to refresh and delight a weary sightseer than with the cool, mouthwatering treat that is ice cream?
In recent years the number of trendy little ice cream parlors and popsicle shops in Cartagena has doubled with unique spins on this old favorite treat that are unique to the old city (and to each shop). You'll find amazing chocolate creations, fruity tropical concoctions, and smooth gelato that rivals that you'll find in Italy.
So if you're looking for something a little sweet after dinner, craving something cool after a day at the beach, or just need to recharge a little while shopping, check out any of these amazing ice cream parlors in Cartagena and indulge your inner child.
Gelateria Paradiso
This renowned gelato parlor, owned by Maria Nevett, has seen its share of famous faces but all are welcome here in the glorious faux-French atmosphere. Here you'll find creamy concoctions created with all natural, and local ingredients including, zapote, corozo, passion fruit, costeño cherry and lulo. For chocolate lovers you'll find only the best organic cacao-based treats.
Whether you're just popping in to grab something to go or like to sit and chill while sampling all the chilly goodness this handcrafted ice cream offers, Gelateria Paradiso is the place to be.
Where to find Gelateria Paradiso:
Centro, Calle del Cuartel Esq with Calle de la Estrella, Cartagena +57 5 660 4945
La Paletteria
Not your traditional ice cream parlor in Cartagena, La Paletteria is offers its own unique spin on favorite frozen fun. Indeed, this little artisanal shop creates one-of-a-kind popsicles in more varieties than you'd find colors in a rainbow. With over 34 flavors of icy deliciousness to choose from, it's almost impossible to make up your mind. This little gourmet popsicle shop offers water-, yogurt-, and cream-based pops to tempt any taste buds in addition to specialty offerings for travelers with dietary restrictions.
Where to find La Paletteria:
Calle de Ayos Number 03-86 | Local 2 – Centro Historico, Cartagena, Colombia +57 5 6661579
Gelateria Tramonti
This artisanal Italian-style gelato shop is the sugar-laced dream of owner Davide—who has created one of the best little rest stops in Cartagena's walled city. Here you can sample dozens of flavors of gelato that's been handcrafted with care and dedication. You'll find flavors that feature fresh local fruits as well as only the best chocolate around. Pair your icy treat with a crafted espresso drink to create a hold/cold, sweet/bitter combo that's to die for. This little shop is just that—little—so guest often take their treats to go.
Where to find Gelateria Tramonti:
Calle 4 50, Cartagena 130013, Colombia +57 5 6649354
Crepes & Waffles
Crepes & Waffles is a bit deceptive. While it does offer exactly what the name suggests (with toppings/fillings that include banana, toasted coconut, Nutella, and even savory options like beef, chicken, and shrimp) it also offers other breakfast, lunch, and dinner options such as salads, soups, and pita. But Crepes & Waffles also offers some of the best homemade ice cream you'll find in Cartagena. While not technically an ice cream parlor, this trendy little restaurant creates amazing (and eye-catching) iced deserts like Chocolate Passion, Delirium, and the Acaramelada Philosophy
Where to find Crepes & Waffles:
Calle 9 # 58b-159, Cartagena 130012, Colombia