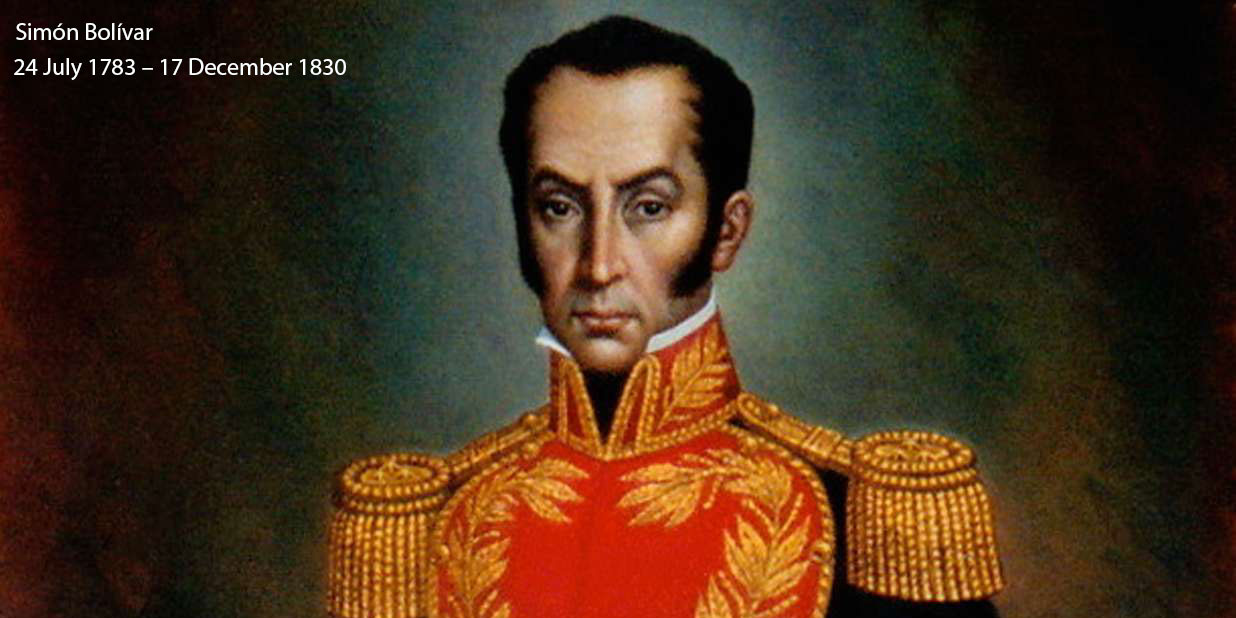 Simón Bolívar: The Great Liberator of Latin America
Simón Bolívar born Simón José Antonio de la Santísima Trinidad Bolívar y Palacios on 24 July, 1783, is a national hero to millions of Central and South American people who, quite literally, owe their nation's freedom to him. He embraced radical ideas of self-rule and led the bloody campaign to throw off the yoke of Spanish rule.
Born into a wealthy, aristocratic family in Venezuela, Simón Bolívar would spend most of his short life in the military service of Venezuela. However, he, unlike many military men, wasn't a loyalist. While he was still young, his parents had sent him to Europe for schooling, as was the custom. There Bolívar was introduced to the Enlightenment philosophers and their teachings. This exceeding liberal, non-imperialistic education would radically shape Bolívar's own personal views about the role of government and the sovereignty of nations.
Bolívar launched his campaign of liberation in 1808 while Spain was distracted by war. This campaign would last over twenty years and would, eventually, end with the establishment of Venezuela, Ecuador, Bolivia, Peru, and Colombia as sovereign states free from the Spanish Empire. This had not been his original plan. In fact, Simón Bolívar tried to create a union of independent nations in Latin America called Gran Colombia (of which he was elected President in 1819).
However, this union proved to be temporary (it crumbled shortly after Simón Bolívar stepped down in 1830) yet it marked a new era for Central and Southern America.
Simón Bolívar and Cartagena
Cartagena is a place of both great triumph and, later, great sadness for Simón Bolívar. It was here that he wrote the Cartagena Manifesto during the Colombian and Venezuelan War of Independence (1812 specifically). This single instant is often regarded as the very first time that Bolivar acted on his own rebellious agenda without the backing of the Venezuelan military.
However, Cartagena would also host some of Simón Bolívar's saddest days. Though relatively young, he had lived a fast-paced vigorous life. By 47 he was worn out and looking forward to spending the rest of his days quietly in some European (or perhaps even tropical) escape. He was staying in Cartagena, intending to sail for Europe, when he was set upon by a fatal combination of illnesses. He never went to sea and instead of a peaceful exile Simón Bolívar spent his last days dying in Colombia. He eventually passed away on 17 December, 1830.
Much of the Latin world reveres Simón Bolívar as a national hero still today. There are statues testifying to his legend in nearly every major city in Colombia, Venezuela, Ecuador, and Peru. Cartagena is no exception. A statue of Simón Bolívar on horseback was erected in the center of the old Walled City in the Plaza de Bolivar square renamed for the man. Below sits a plaque engraved with that famous quote recalling the glory that the city bestowed the man: "If Caracas gave me life, Cartagena gave me glory."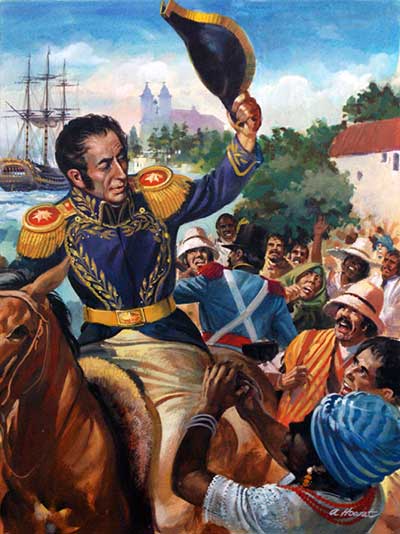 Born on July 24, 1783 in Caracas, Venezuela
Died December 17, 1830 in Santa Marta, Colombia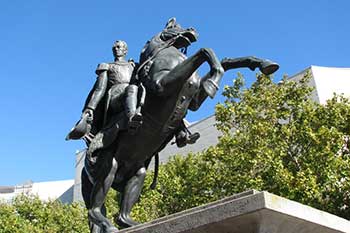 Simón Bolívar
Statue in United Nations Plaza in San Francisco, California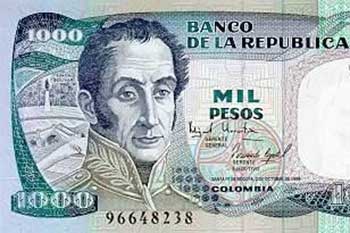 Simon Bolivar
Often referred to as the George Washington of South America on a 100 Mil Pesos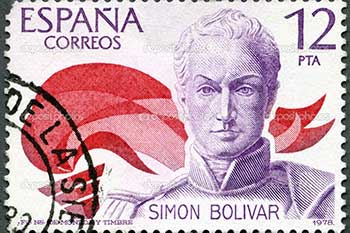 Simon Bolivar
is commerated throughout the world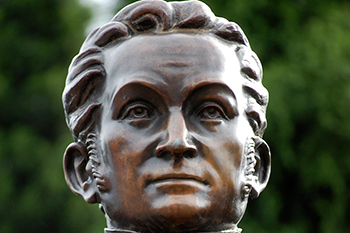 Simon Bolivar
He led Venezuela, Colombia, Panama (part of Colombia during this period), Ecuador, Peru to independence from the Spanish Empire