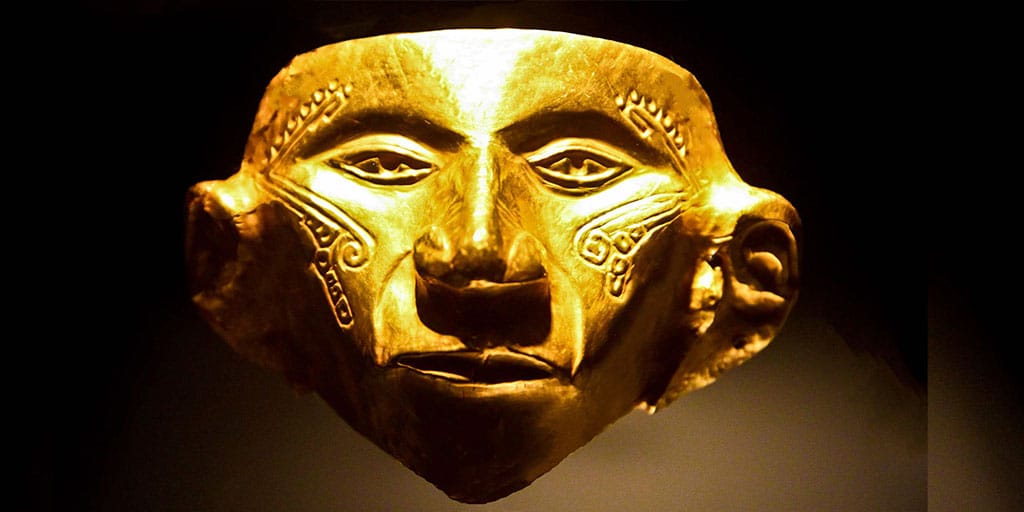 Museo del Oro in Cartagena (Gold Museum)
The Museo del Oro in Cartagena offers a unique peek in Colombia's pre-Colombian past. It's a must-see for history buffs and, really, anyone who likes pretty things. Located in Plaza de Bolivar in the heart of Cartagena's Walled City, the Museo del Oro (or Gold Museum) is a showcase of Colombia's cultural heritage and one of the few places in Cartagena where visitors can really see authentic pieces created by native peoples living in the area before the Spanish conquered it.
The History of Gold in Colombia
The pre-Colombian peoples that lived in South America have a 2,000-year-old tradition of working gold into gorgeous and intricate designs. It's one of the reasons that European powers like Spain and Portugal were so hot to conquer large swaths of land in the area. However, unlike greedy European conquistadors the native peoples of South America believed that gold was a sacred metal and imparted spiritual power to objects made with it.
Many cultures (including the Zenú) believed that gold allowed mortals to communicate with the afterlife or spirit world and many artifacts have been discovered that aid in the passage of one world to the other including the amazing Muisca golden raft on display in Bogota.
Muisca Golden Raft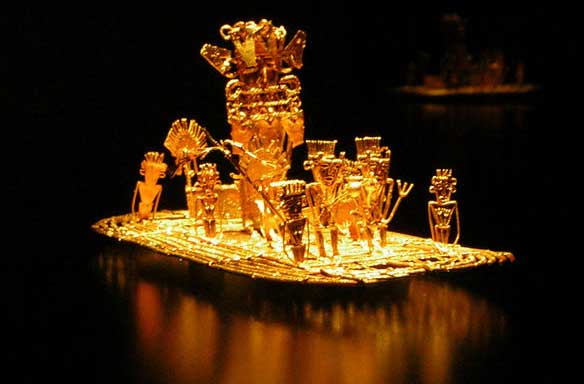 What's in the Museo del Oro?
The rather unassuming façade of the Spanish Colonial home hides a wealth of amazing artifacts, knowledge, and cultural history. If you're vacationing in Cartagena, stop in and witness the truly awe-inspiring talent of craftspeople working with primitive tools and precious resources.
On display you'll see gold and ceramic designs produced by the native Zenú peoples of Colombia including:
• Jewelry
• Stone tools
• Ceramic pottery
• Bone art
Golden Mask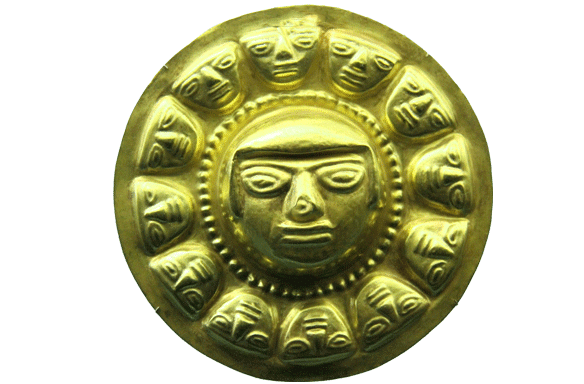 Visions of the Past in Cartagena Today
Many people visiting Cartagena today are amazed by how strong the connection with the past is here. Many of the tools, designs, and resources that were used by native people thousands of years ago are still being used by modern craftspeople today.
Gold, gemstones (especially emeralds), polished shells from the Caribbean shore, and native fibers are all used to create jewelry, handicrafts, and artwork that you can take home with you to commemorate your vacation in Cartagena.
Where to Find the Museo del Oro in Cartagena
The Museo del Oro in Cartagena is located in Plaza de Bolivar (Bolívar´s Square) along Calle 33 (#3-123) in the Centro district. You can contact them directly by calling (+57) (+5) 6600778 or electronically via email: lgomezve@banrep.gov.co. The Museo del Oro is open from 9 AM to 5 PM Thursday through Saturday and 10 AM to 3 Pm on Sunday. Admission is always free.