Casa Jazmin
10 Bedroom (Sleeps 16)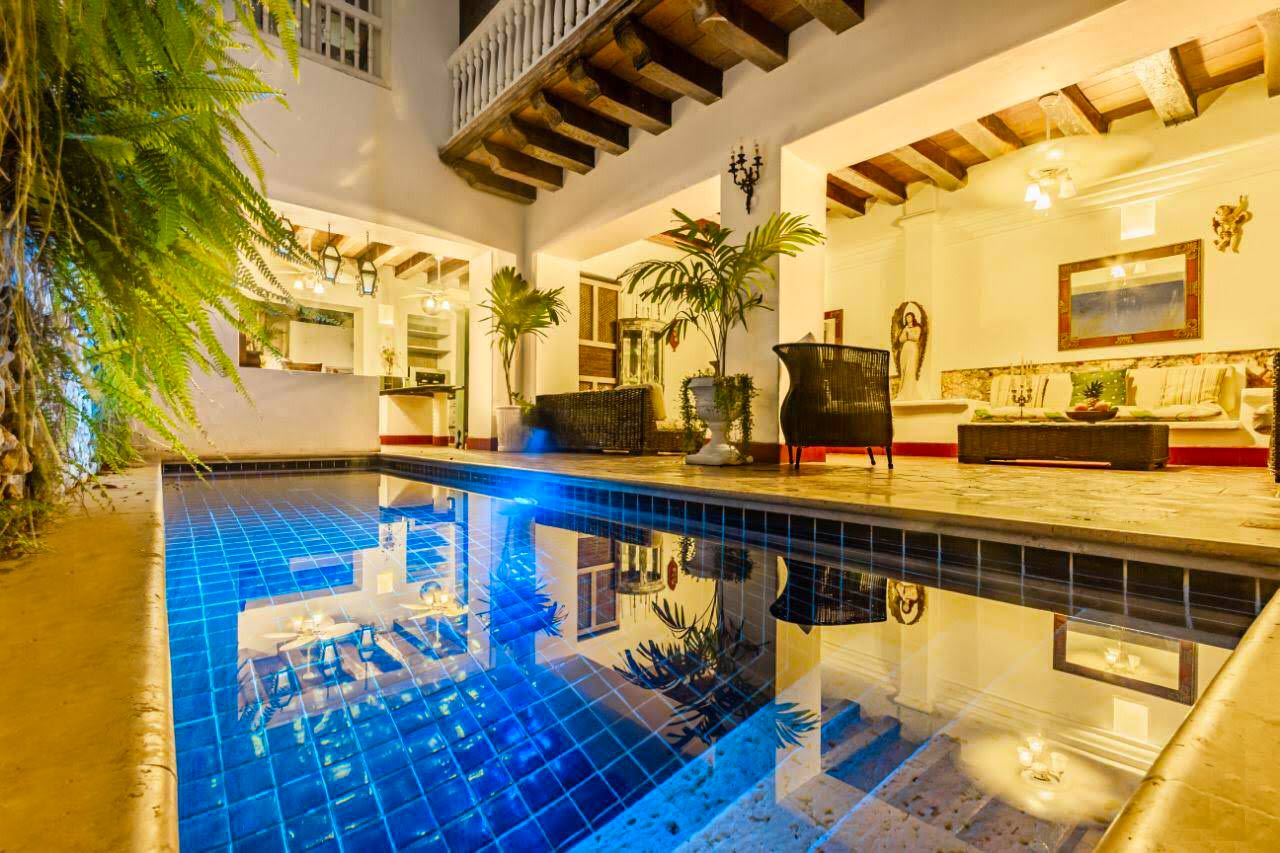 Discover the charm of Cartagena with a stay at Casa Jazmin, a budget-friendly yet comfortable retreat nestled in the vibrant heart of the historic center. This humble abode offers the following amenities and features:
Prime Location: Situated amidst the bustling heart of the historic center, guests can enjoy the proximity to renowned restaurants, vibrant bars, retail shops, exciting nightlife, and picturesque plazas, immersing themselves in the rich culture and vibrant life of Cartagena.
Spacious Accommodation: With 10 well-appointed bedrooms, Casa Jazmin is capable of comfortably accommodating up to 16 guests, making it a great choice for large groups or families.
Relaxing Outdoor Areas: The house is equipped with two terraces that offer stunning views over Spanish rooftops, providing an excellent spot to unwind and enjoy the surrounding scenery.
Pool and Jacuzzies: Casa Jazmin features a refreshing pool and two jacuzzies, offering guests a private oasis to relax and cool off in the heart of the city.
Attentive Staff: The property prides itself on its friendly and helpful staff who are always on hand to assist guests, ensuring a pleasant and hassle-free stay.
Economical Choice: Despite its central location and amenities, Casa Jazmin remains an affordable choice for travelers, providing a great value for money experience.
Casa Jazmin invites you to experience the vibrant culture and historic charm of Cartagena, without breaking the bank, promising a stay that is both comfortable and economical.
Arrival time is 3:00 pm and check out is at 12:00 pm. We are happy to accommodate if you arrive before 3:00 pm, as long as the house is available.
Booking confirmation requires a deposit of 50% low season and 100% high season of the total rent. The remaining 50% to be paid 60 days before arrival.
Refundable Security Deposit of $500.00 required with booking confirmation.
We will be able to help you pre-stock your fridge before arrival if you would prefer.
Min 3 days
Jan 19 – Mar 27
Apr 06 – Jun 11
Jul 13 – Oct 29
Nov 17 – Dec 22
Min 7 days
Dec 23 – Jan 18
Mar 28 – Apr 05
Jun 12 – Jul 12
Oct 30 – Nov 16