Casa Francis
7 Bedroom (Sleeps 16)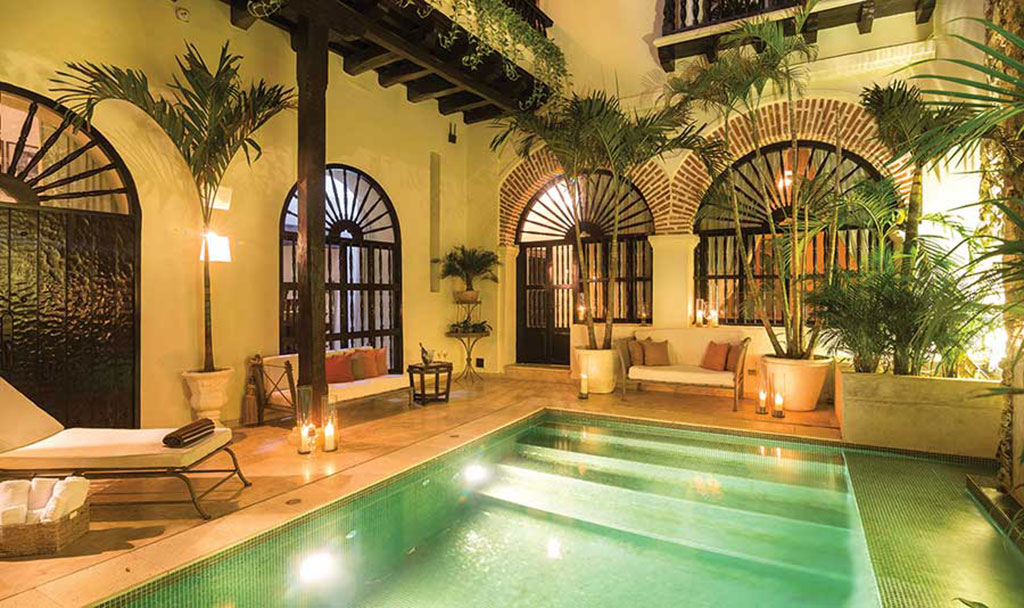 Delve into a historical retreat at Casa Francis, a landmark property graced by illustrious figures and standing as a testament to Cartagena de Indias' rich history. This opulent home, built in the year 1560, has witnessed eras unfold and has stories etched into its venerable walls. From being the abode of the first Governor of Cartagena de Indias to hosting the infamous pirate Francis Drake in 1587, Casa Francis has always been at the epicenter of significant events. Here's a glimpse into what awaits you at this prestigious rental home:
Historical Significance: Being one of the oldest and most prestigious rental homes in the old city, Casa Francis carries a rich heritage. Its historical significance adds a unique charm and allure, providing a once-in-a-lifetime opportunity to delve deep into the rich tapestry of Cartagena de Indias' past.
Lavish Space: Spread across a sprawling 1000 square meters, Casa Francis has been meticulously restored to embody contemporary high standards. Every corner of this expansive property resonates with a blend of grandeur and modern luxury, promising a stay that's nothing short of spectacular.
Luxury Accommodations: The house boasts 7 lavishly furnished bedrooms that promise unmatched comfort and luxury. Each room is a haven of tranquility, where you can unwind and rejuvenate amidst the most exquisite settings.
Recreational Amenities: Casa Francis is home to two sparkling swimming pools where you can enjoy refreshing dips under the warm Cartagena sun. The gorgeous courtyard stands as a serene oasis, offering a perfect backdrop for relaxation and leisure.
Rooftop Views: Elevate your experience with breathtaking views from the rooftop. Overlooking the magnificent Cathedral, the rooftop presents an opportunity to soak in the architectural beauty of the old city, making for picture-perfect moments.
Comfortable Living Area: Step into a living room that embodies comfort and luxury. The space opens out to a beautiful balcony, allowing you to enjoy the vibrant street views while basking in the comforts of a well-appointed interior.
Exceptional Service: At Casa Francis, every guest is treated like royalty. A highly trained team of 5 staff members is at your service, ensuring that your stay is marked by unparalleled comfort and indulgence.
Casa Francis invites you to step into a world of luxury, where history meets contemporary elegance, offering a stay that is as memorable as it is comfortable.
Arrival time is 3:00 pm and check out is at 12:00 pm. We are happy to accommodate if you arrive before 3:00 pm, as long as the house is available.
Booking confirmation requires a deposit of 50% low season and 100% high season of the total rent. This property has a NON REFUNDABLE POLICY. New Year's Rate is Higher. See Calendar
Refundable Security Deposit of $2000.00 required for booking confirmation.
Daily maid service included in the rate.
Additional charge if a Chef is required; ingredients not included. We will be able to help you pre-stock the fridge before arrival if you would prefer.
Min 3 days
Jan 19 – Mar 27
Apr 06 – Jun 11
Jul 13 – Oct 29
Nov 17 – Dec 22
Min 7 days
Dec 23 – Jan 18
Mar 28 – Apr 05
Jun 12 – Jul 12
Oct 30 – Nov 16