Casa Schumacher
5 Bedroom (Sleeps 10)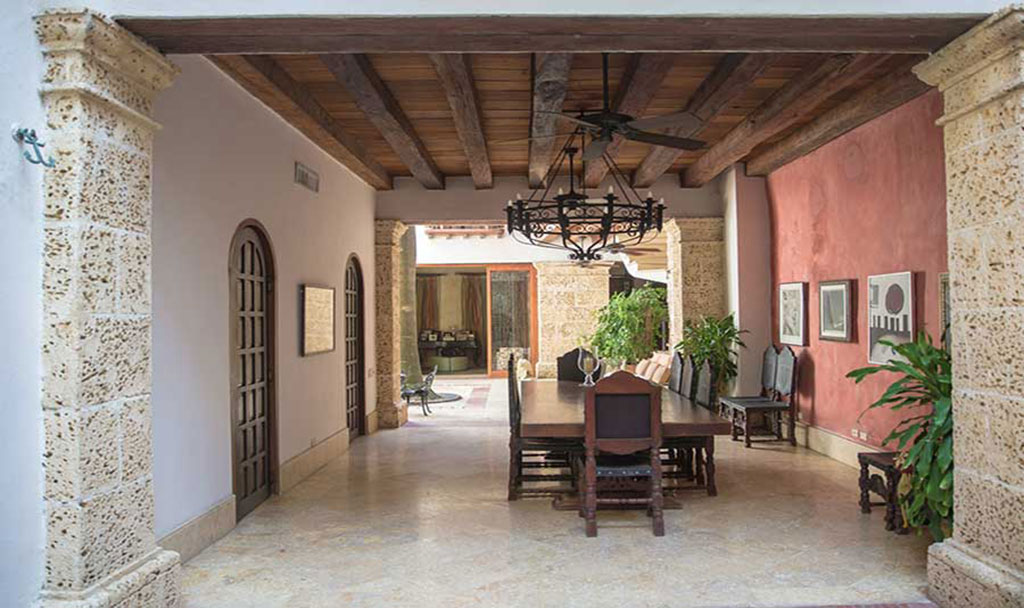 Casa Schumacher embodies the pinnacle of luxury and historic allure in the heart of Cartagena's historic Old City. This abode, with a rich legacy spanning over 250 years, is a testament to the fine balance between preserving historical integrity and embracing modern conveniences. Whether you're a first-time visitor to Cartagena or a business traveler seeking an authentic experience, Casa Schumacher stands as an unparalleled choice over conventional high-rise hotels. The highlights of this property include:
Prime Location: Nestled along the elite Calle Don Sancho, the house is in close proximity to the meticulously restored Teatro Heredia and the ancient fortress walls. Guests can easily access the mesmerizing views of the Caribbean Sea, adding a touch of natural beauty to their stay.
Breathtaking Views: The residence is blessed with stunning vistas, best enjoyed from the mirador with a 10-person Jacuzzi or the expansive front balcony, offering an immersive experience into the beauty of Cartagena.
Colonial-Era Architecture: The home boasts architectural brilliance that captures the gentle sea breezes, providing natural air conditioning complemented by modern amenities like overhead fans and individualized air conditioning units in each room.
Outdoor Spaces: Guests can relish in the beautifully adorned patios with royal palms and a cascading water fountain, adding an element of tranquility to the surroundings.
Luxurious Interiors: Every room in Casa Schumacher carries a distinctive theme and color scheme, characterized by vibrant paints, designer fabrics, and authentic antique furnishings. The sophisticated interiors offer a retreat into a world of luxury and comfort.
Modern Amenities: Equipped with state-of-the-art facilities including internet access in most bedrooms, a fax machine, and a Bose surround sound system in the master bedroom, the house is tailored to meet the demands of modern lifestyles.
Gourmet Kitchen: The kitchen is a haven for culinary enthusiasts, featuring high-end appliances and amenities, facilitating both intimate and grand dinner preparations.
Dining Space: The dining area, with a seating capacity of 12, along with additional seating options in the patios, is perfect for hosting large gatherings and enjoying memorable meals.
Personalized Service: Guests are attended to by two proficient staff members who cater to various needs, ensuring a comfortable and secure stay.
With its deep-rooted history and modern touches, Casa Schumacher stands as an epitome of luxury and tranquility, promising an unforgettable stay in Cartagena.
Arrival time is 3:00 pm and check out is at 12:00 pm. We are happy to accommodate if you arrive before 3:00 pm, as long as the house is available.
Booking confirmation requires a deposit of 50% of the total rent. The remaining 50% to be paid 60 days prior to arrival. Please notice the Higher New Year's Rates in the Calendar
Refundable Security Deposit of $500.00 required with booking confirmation.
Daily maid service and preparation of breakfast is included in the rate. However, just keep in mind the actual food is not.
We will be able to help you pre-stock your fridge before arrival if you would prefer.
Min 3 days
Jan 19 – Mar 27
Apr 06 – Jun 11
Jul 13 – Oct 29
Nov 17 – Dec 22
Min 7 days
Dec 23 – Jan 18
Mar 28 – Apr 05
Jun 12 – Jul 12
Oct 30 – Nov 16