Casa Bella
8 Bedroom (Sleeps 16)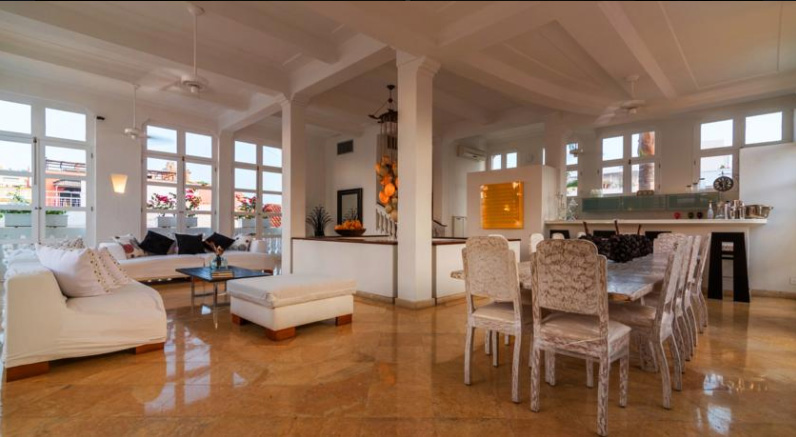 Casa Bella, with its sprawling layout featuring 8 bedrooms and 8 bathrooms, stands as a luxurious haven for large groups seeking both community and privacy in the heart of Cartagena. Dive deep into what this paradise offers:
Spacious Accommodations: Offering 8 meticulously designed bedrooms and 8 well-appointed bathrooms, Casa Bella is tailor-made for hosting large groups. Here, friends can come together to create cherished memories, while still enjoying their individual sanctuaries.
Exquisite Amenities: Casa Bella is equipped with a host of amenities designed for entertainment and relaxation. From two serene pools to unwind and refresh, to the sauna where you can detoxify in peace, every corner of this home promises leisure and luxury.
Rooftop Terraces: The home features not one but two rooftop terraces, offering unparalleled views of the vibrant city below. Whether it's a morning yoga session or a sunset cocktail party, these spaces provide the perfect backdrop.
BBQ Area: Casa Bella boasts a BBQ area, where guests can come together for festive grilled feasts. As the aromas of barbeque fill the air, enjoy laughter and camaraderie in this vibrant outdoor space.
Entertainment Spaces: The home features numerous entertainment spaces, where guests can gather for games, discussions, or simply to share a meal. These areas have been designed keeping in mind the comfort and enjoyment of large groups.
Staff at Your Service: To make your stay even more comfortable, Casa Bella provides the services of four dedicated employees. From taking care of housekeeping to assisting with other needs, the staff ensures a seamless and pampered experience.
In Casa Bella, every group finds their own slice of paradise, where luxury meets comfort, and where every day is a celebration of togetherness and joy.
Arrival time is 3:00 pm and check out is at 12:00 pm. We are happy to accommodate if you arrive before 3:00 pm, as long as the house is available.
Booking confirmation requires a deposit of 50% low season and 100% high season of the total rent. The remaining 50% to be paid 60 days before arrival.
Refundable Security Deposit of $500.00 required with booking confirmation.
We will be able to help you pre-stock your fridge before arrival if you would prefer.
Min 3 days
Jan 19 – Mar 27
Apr 06 – Jun 11
Jul 13 – Oct 29
Nov 17 – Dec 22
Min 7 days
Dec 23 – Jan 18
Mar 28 – Apr 05
Jun 12 – Jul 12
Oct 30 – Nov 16