Casa Altea
5 Bedroom (Sleeps 16)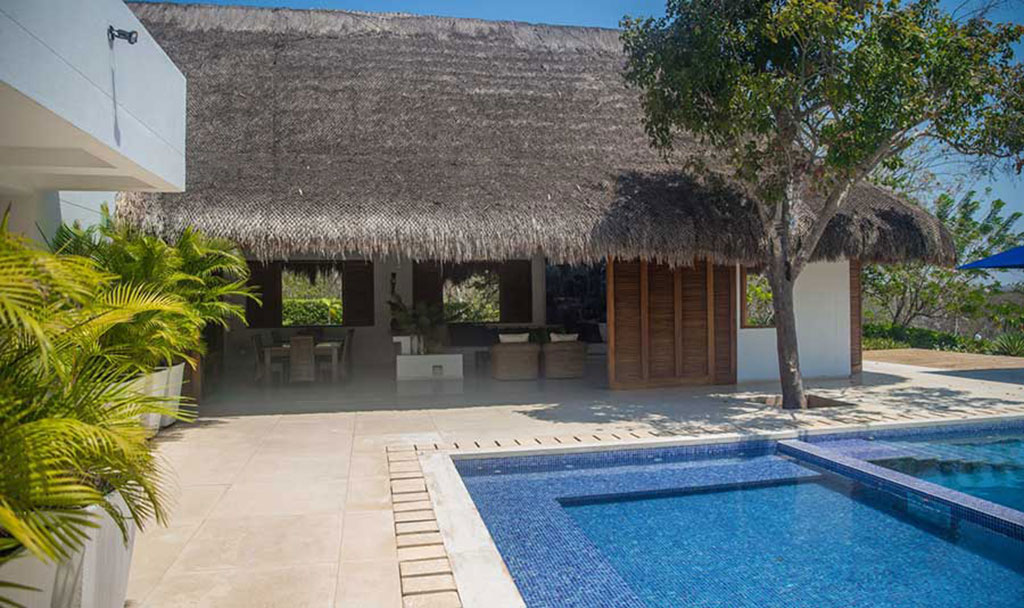 Casa Altea is an amazing house rental set in Baru and is on the beach surrounded by peace and tranquility with a private boat dock for 3 boats. The house has a central fixture of a swimming pool and open thatched living space that allows the breeze to flow through. All of Casa Altea's rooms have air conditioning and fans. A pergola for BBQ and is surrounded by beautiful gardens and greenery and comes with live in staff to cater for your every needs.
Located in Baru near the Rosario Islands
it is approximately 45 minutes from Rafael Nunez Airport Cartagena by car. A private boat can be arrange to take you to Casa Altea from Cartagena's port.
The house has a capacity to accommodate 16 people (*), has 5 rooms with staff and the following distribution:
1. Double room with ensuite bathroom, attached studio with two single beds.
2. Double bed with en suite.
3. Double bed and two single beds, en suite.
4. Room with 3 single beds, shared bathroom with room # 5.
5. Room with 3 single beds, shared bathroom with room. # 4
(*)The house can cater for groups of up to 16 people. Published rates are for 12 people; an extra per person charge will apply if more than 12 guests. NOTICE: New Year's Rate is Higher. Please check calendar.
Arrival time is 3:00 pm and check out is at 12:00 pm. We are happy to accommodate if you arrive before 3:00 pm, as long as the house is available.
Booking confirmation requires a deposit of 50% of the total rent. The remaining 50% to be paid 60 days prior to arrival. The house has limited Internet Service. New Year's Rates are Higher. Please check calendar.
Refundable Security Deposit of $500.00 required with booking confirmation.
Pick up & Drop off at the airport (or Cartagena) can be arranged.
Daily maid service and a part time cook are included in the rate with Casa Altea. However, just keep in mind the actual food is not. We will be able to help you pre-stock your fridge before arrival if you would prefer.
Min 3 days
Jan 19 – Mar 27
Apr 06 – Jun 11
Jul 13 – Oct 29
Nov 17 – Dec 22
Min 7 days
Dec 23 – Jan 18
Mar 28 – Apr 05
Jun 12 – Jul 12
Oct 30 – Nov 16