Casa Fusion
3 Bedroom (Sleeps 6)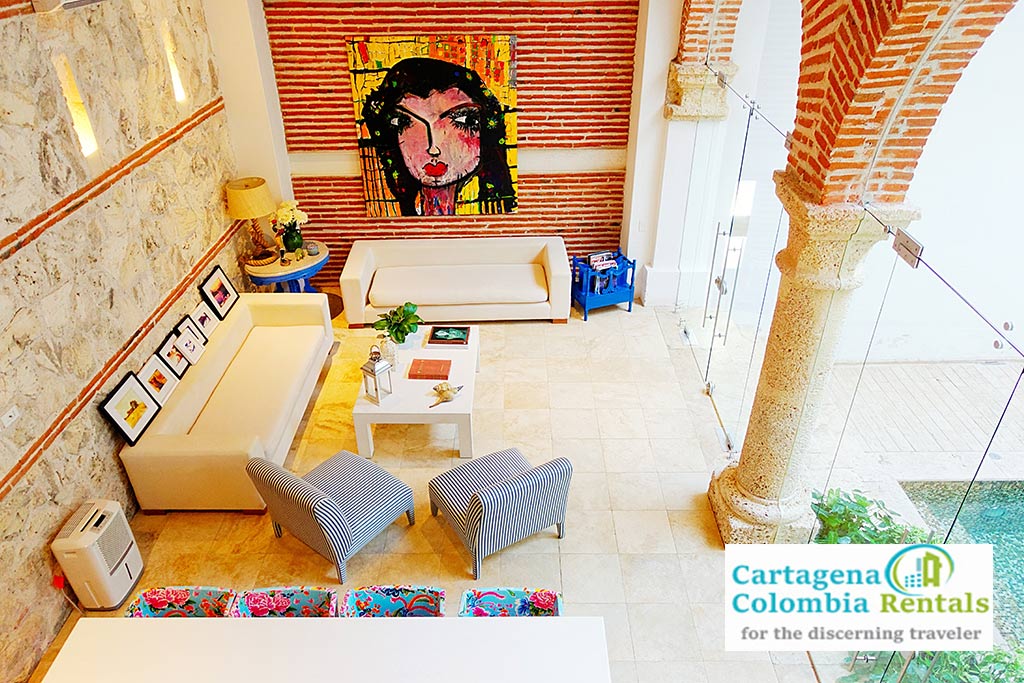 Welcome to Casa Fusion, a vibrant oasis nestled within the historic confines of the Old Walled City of Cartagena de Indias. This colorful home offers a modern yet cozy retreat, adorned with luxurious furnishings and a splash of local artistry, promising an experience of comfort and cultural immersion:
Refreshing Pool Entrance – Step into a welcoming space graced with a large pool at the entrance, promising an immediate sense of refreshment and relaxation as you enter the premises.
Comfortable Accommodation – The residence features 3 well-appointed bedrooms and 3 modern bathrooms, ideally accommodating up to 6 guests. With a variety of bed configurations including queen beds and single beds, it ensures a comfortable stay for all.
Master Bedroom with a View – The master bedroom steals the show with a large window offering a commanding view down to the elegantly decorated living room, adding a touch of grandeur to your stay.
Fully-Equipped Kitchen – Although surrounded by culinary delights, the modern and fully stocked kitchen offers the option to whip up your own meals with ease, featuring all the utensils needed for a delightful culinary experience.
Artistic Living Space – Indulge in the bright and airy living room, adorned with paintings from local artists and vibrant colors that continue to the eight-seat dining table, creating a lively and aesthetically pleasing ambiance.
Modern Amenities – Equipped with a range of modern amenities including a washer, dryer, air conditioning, and high-speed wi-fi, Casa Fusion promises a comfortable and convenient stay.
At Casa Fusion, immerse yourself in a vibrant and luxurious retreat where modern comfort meets the historic charm of Cartagena, offering a getaway that is both relaxing and culturally enriching.
Arrival time is 3:00 pm and check out is at 12:00 pm. We are happy to accommodate if you arrive before 3:00 pm, as long as the house is available.
Booking confirmation requires a deposit of 50% low season and 100% high season of the total rent. The remaining 50% to be paid 60 days before arrival.
Refundable Security Deposit of $500.00 required with booking confirmation.
We will be able to help you pre-stock your fridge before arrival if you would prefer.
Min 3 days
Jan 19 – Mar 27
Apr 06 – Jun 11
Jul 13 – Oct 29
Nov 17 – Dec 22
Min 7 days
Dec 23 – Jan 18
Mar 28 – Apr 05
Jun 12 – Jul 12
Oct 30 – Nov 16