Casa Arcangel
5 Bedroom (Sleeps 10)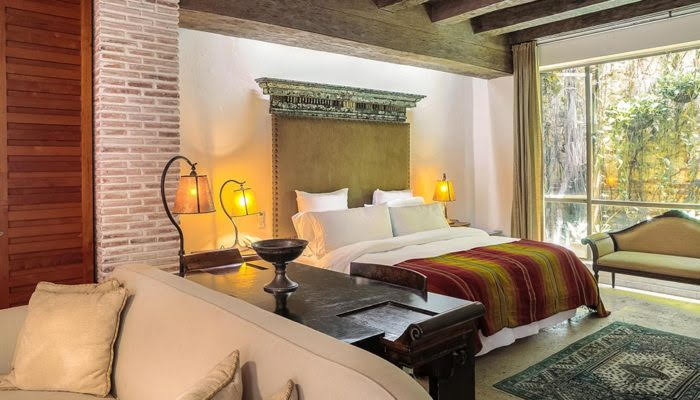 Casa Arcangel transports you to a bygone era, nestled in one of the most iconic streets within the Walled City. This 18th-century abode brings together the grandeur of the colonial period with modern-day amenities, offering an experience that is both serene and luxurious. The standout features of Casa Arcangel include:
5 En Suite Bedrooms: The residence comfortably sleeps up to 10 guests, providing a harmonious blend of historical elegance and contemporary comfort in each bedroom.
Large Pool: Dive into relaxation in the expansive pool, a refreshing oasis where you can unwind under the radiant Cartagena sun.
Rooftop Jacuzzi: Elevate your relaxation with a soak in the rooftop jacuzzi, a haven of tranquility offering sweeping views of the surroundings.
Well-Trained Staff: The property is serviced by three well-trained and charming staff members, ensuring your stay is as comfortable and enjoyable as possible.
The lush landscapes surrounding the property accentuate the home's peaceful ambiance, transporting you back to a time of colonial elegance and grace, with all the conveniences of modern luxury.
Arrival time is 3:00 pm and check out is at 12:00 pm. We are happy to accommodate if you arrive before 3:00 pm, as long as the house is available.
Booking confirmation requires a deposit of 50% low season and 100% high season of the total rent. The remaining 50% to be paid 60 days before arrival.
Refundable Security Deposit of $500.00 required with booking confirmation.
We will be able to help you pre-stock your fridge before arrival if you would prefer.
Min 3 days
Jan 19 – Mar 27
Apr 06 – Jun 11
Jul 13 – Oct 29
Nov 17 – Dec 22
Min 7 days
Dec 23 – Jan 18
Mar 28 – Apr 05
Jun 12 – Jul 12
Oct 30 – Nov 16