Casa Gaston
5 Bedroom (Sleeps 10)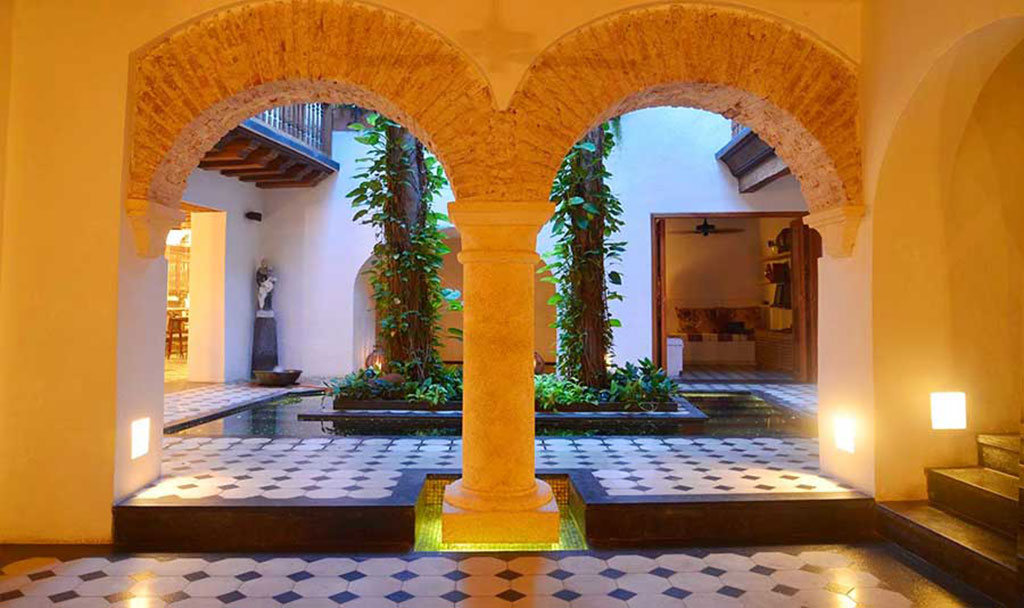 Nestled between the iconic landmarks of the Domes of San Pedro Claver and the Cathedral, Casa Gaston stands as a beacon of luxury and elegance in the heart of the old city of Cartagena. This majestic mansion, spread over four floors, offers not just splendid accommodation, but a range of entertainment options that promise an indulgent and luxurious stay. Here's what you can look forward to at Casa Gaston:
Prime Location: Situated in one of the most enviable locations in the old city, Casa Gaston offers proximity to Cartagena's most notable landmarks. Despite its central location, the mansion offers complete insulation from the hustle and bustle, promising a tranquil and secluded retreat.
Spacious Accommodation: With five spacious bedrooms, Casa Gaston caters to the needs of large groups without compromising on comfort and privacy. Each room is designed to offer the utmost comfort and relaxation during your stay.
Entertainment Galore: The property boasts multiple floors of entertainment space. Whether you are in the mood for a rooftop barbecue, a casual drink at the bar, or a relaxing soak in the Jacuzzi, the options are abundant. The expansive terrace and upper terrace serve as perfect spots to unwind and enjoy stunning views of the surrounding landmarks.
Spectacular Views: From the terraces, guests can soak in the breathtaking views of the Domes of San Pedro Claver and the Cathedral, adding a touch of grandeur to your stay.
Luxury Amenities: Casa Gaston promises a lavish experience with its range of luxury amenities. The grand entrance that opens into a courtyard with a pool and numerous rooms offers a sneak peek into the luxury that awaits inside.
Well-Equipped Spaces: The property houses a lounge and dining area, well-equipped to cater to your entertainment and dining needs. Be it a formal dinner or a casual gathering, the spaces offer the perfect setting.
Personalized Service: To elevate your stay to a whole new level, Casa Gaston provides fully trained staff, including a cook and a butler, who are dedicated to ensuring that your stay is nothing short of perfect.
Experience the pinnacle of luxury and comfort at Casa Gaston, where every moment is a testament to grandeur and sophistication.
Living Room
Dinning Room
Kitchen
Open Air Courtyard
Roof Top Jacuzzi
Roof Top Terrace
Roof Top Barbecue
Roof Top Lounge Area
Private Access
Laundry Services
Wifi
Air Conditioning
Arrival time is 3:00 pm and check out is at 12:00 pm. We are happy to accommodate if you arrive before 3:00 pm, as long as the house is available.
Booking confirmation requires a deposit of 50% of the total rent. The remaining 50% to be paid 60 days before arrival.
Refundable Security Deposit of $1000.00 required with booking confirmation.
Daily maid service is included in the rate.
We will be able to help you pre-stock your fridge before arrival if you would prefer.
Min 3 days
Jan 19 – Mar 27
Apr 06 – Jun 11
Jul 13 – Oct 29
Nov 17 – Dec 22
Min 7 days
Dec 23 – Jan 18
Mar 28 – Apr 05
Jun 12 – Jul 12
Oct 30 – Nov 16