Casa Italia
4 Bedroom (Sleeps 9)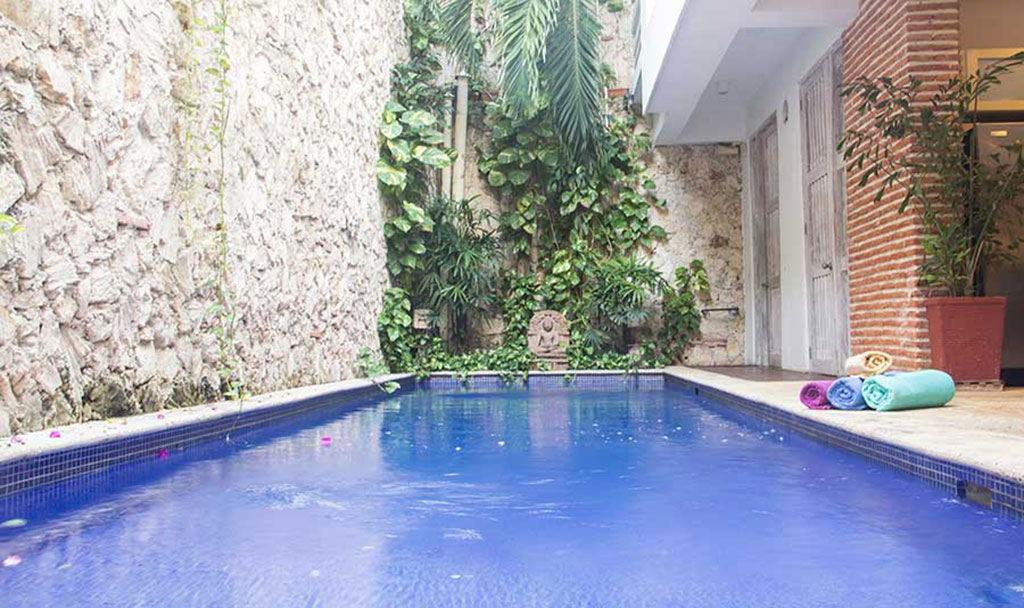 Immerse yourself in the rich history and vibrant culture of Cartagena at Casa Italia, a historic Colonial-era residence that has stood the test of time, gracefully passing through generations of the same family for the last 250 years. Recently renovated, it marries traditional elegance with contemporary comforts, making it a beacon of luxury and style in the heart of the old city.
Architectural Excellence: Spanning three floors, the property exhibits a modern open-floor plan, adorned with treated and whitewashed wood, and accented with Indian antiques and red brick elements, encapsulating a rich blend of cultures.
Lavish Accommodations: The home houses four spacious bedrooms, offering a haven of comfort for up to nine guests. The bedrooms are dressed in luxurious 800-thread count linens, providing a plush retreat for every guest.
Coral-Stone Bathrooms: The en-suite bathrooms, crafted with coral stone, invite nature indoors and are furnished with fine fixtures and fittings, adding a touch of luxury to your daily routine.
Master Bedroom – A Crown Jewel: The crown jewel of Casa Italia is undoubtedly its master bedroom, which showcases a stunning hand-carved wooden Hindu headboard, echoing the exotic décor permeating throughout the residence. This sanctuary opens onto a large balcony, enveloped in vibrant Bougainvillea, offering a quaint vantage point to observe the bustling street below in the Old City's San Diego district.
Spectacular Rooftop Terrace: The remaining bedrooms provide versatile sleeping arrangements and are situated near the rooftop terrace, a serene spot where guests can witness the lively spirit of Cartagena, especially as the sun sets. This space boasts a private Jacuzzi and a communal barbeque area, perfect for hosting delightful dinners or intimate gatherings.
Entertainment Hub: The ground floor hosts a well-equipped kitchen, an ideal spot to pick up Caribbean cooking skills through private classes that can be organized during your stay. Adjacent to this is the pool area, a grand space known to host Cartagena's most unforgettable social events, promising a delightful time for all guests.
Personalized Services: To enhance your stay, Casa Italia offers the assistance of two dedicated staff members, ever-ready to cater to your every need and ensure a seamless, luxurious stay.
Experience the finest of Cartagena's heritage and luxury at Casa Italia, where past meets present in a beautiful symphony, promising an unforgettable sojourn.
Arrival time is 3:00 pm and check out is at 12:00 pm. We are happy to accommodate if you arrive before 3:00 pm, as long as the house is available.
Booking confirmation requires a deposit of 50% of the total rent. The remaining 50% to be paid 60 days before arrival. New Year's Rate is Higher. See Calendar
Refundable Security Deposit of $500.00 required with booking confirmation.
Daily maid service and preparation of breakfast and lunch are all included in the rate. However, just keep in mind the actual food is not.
We will be able to help you pre-stock your fridge before arrival if you would prefer.
Min 3 days
Jan 19 – Mar 27
Apr 06 – Jun 11
Jul 13 – Oct 29
Nov 17 – Dec 22
Min 7 days
Dec 23 – Jan 18
Mar 28 – Apr 05
Jun 12 – Jul 12
Oct 30 – Nov 16