Casa Berbieri
15 Bedroom (Sleeps 20)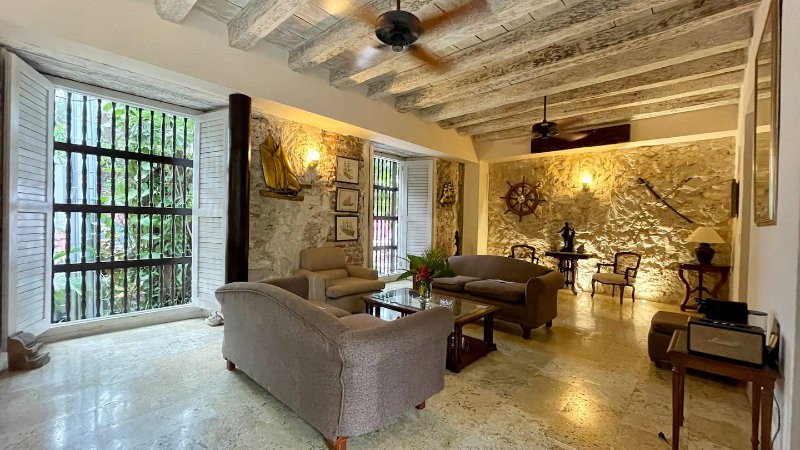 Welcome to Casa Berbieri, your oasis nestled in the pulsating heart of Cartagena, Colombia. This expansive residence embodies the epitome of luxury and convenience, perfect for large groups seeking to immerse themselves in the historic charm of the old city. Here's what awaits you:
15 Luxurious Bedrooms: Each featuring en-suite bathrooms, these rooms have been meticulously designed to provide comfort and relaxation, accommodating up to 20 guests with ease.
Prime Location: Situated in the vibrant old city, Casa Berbieri positions you close to the energetic pulse of Cartagena, with easy access to various attractions that showcase the rich history and vibrant culture of the city.
Private Pool: Step into the refreshing embrace of your private pool, a perfect spot to unwind and enjoy the sunny Cartagena weather.
Triple Jacuzzi: Amplify your relaxation with not one, but three jacuzzis, offering a blissful retreat to soak and unwind after a day of exploration.
At Casa Berbieri, every detail is crafted to enhance your experience, blending modern luxuries with the historic charm that Cartagena is renowned for. Prepare yourself for an unforgettable vacation in this Colombian paradise.
Arrival time is 3:00 pm and check out is at 12:00 pm. We are happy to accommodate if you arrive before 3:00 pm, as long as the house is available.
Booking confirmation requires a deposit of 50% low season and 100% high season of the total rent.
Refundable Security Deposit of $2000.00 required with booking confirmation.
We will be able to help you pre-stock your fridge before arrival if you would prefer.
Min 3 days
Jan 19 – Mar 27
Apr 06 – Jun 11
Jul 13 – Oct 29
Nov 17 – Dec 22
Min 7 days
Dec 23 – Jan 18
Mar 28 – Apr 05
Jun 12 – Jul 12
Oct 30 – Nov 16