Casa Perla
4 Bedroom (Sleeps 8)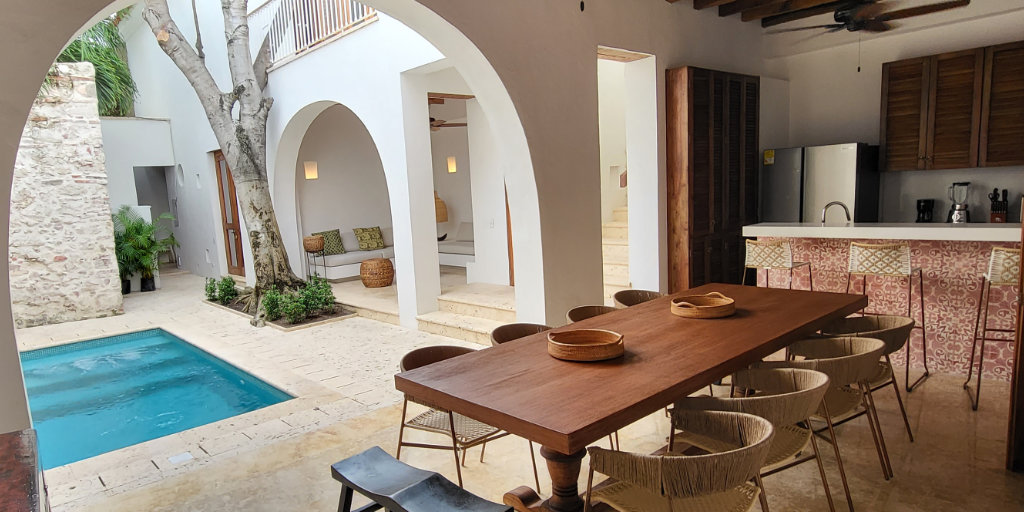 Embrace the delightful blend of colonial charm and contemporary elegance at Casa Perla, a recently renovated haven ready to host your memorable stay in the heart of Cartagena. With its strategic location near the renowned Santa Clara Hotel, you are just steps away from experiencing the rich history and vibrant culture of the city.
Revamped Colonial Architecture: Casa Perla retains the grandeur of its colonial roots, while boasting modern and stylish renovations, offering you the best of both worlds.
Sleeping Arrangements: Featuring 4 well-appointed bedrooms that comfortably sleep up to 8 guests, ensuring ample space and privacy for everyone.
Modern Kitchen: Prepare delightful meals in the fully equipped kitchen, featuring the latest appliances to make your culinary adventures a breeze.
Private Swimming Pool: Dive into relaxation in your very own swimming pool, a serene oasis where you can cool off and enjoy the tranquil ambiance.
Chill Lounge Cave: Unwind and connect with your companions in the chill lounge cave situated near the pool, an idyllic spot for leisurely afternoons and cozy evenings.
Prime Location: Nestled near the esteemed Santa Clara Hotel, Casa Perla allows easy access to a vibrant neighborhood bustling with attractions and cultural landmarks.
Step into a world of luxury and comfort at Casa Perla, where old-world charm meets modern sophistication, promising an unforgettable Cartagena experience. Reserve your stay today and be among the first to indulge in the renewed grandeur of this colonial haven.
Arrival time is 3:00 pm and check out is at 12:00 pm. We are happy to accommodate if you arrive before 3:00 pm, as long as the house is available.
Booking confirmation requires a deposit of 50% low season and 100% high season of the total rent. The remaining 50% to be paid 60 days before arrival.
Refundable Security Deposit of $500.00 required with booking confirmation.
We will be able to help you pre-stock your fridge before arrival if you would prefer.
Jan 19 – Mar 27
Apr 06 – Jun 11
Jul 13 – Oct 29
Nov 17 – Dec 22
Dec 23 – Jan 18
Mar 28 – Apr 05
Jun 12 – Jul 12
Oct 30 – Nov 16