Casa Velero
21 Bedroom (Sleeps 42)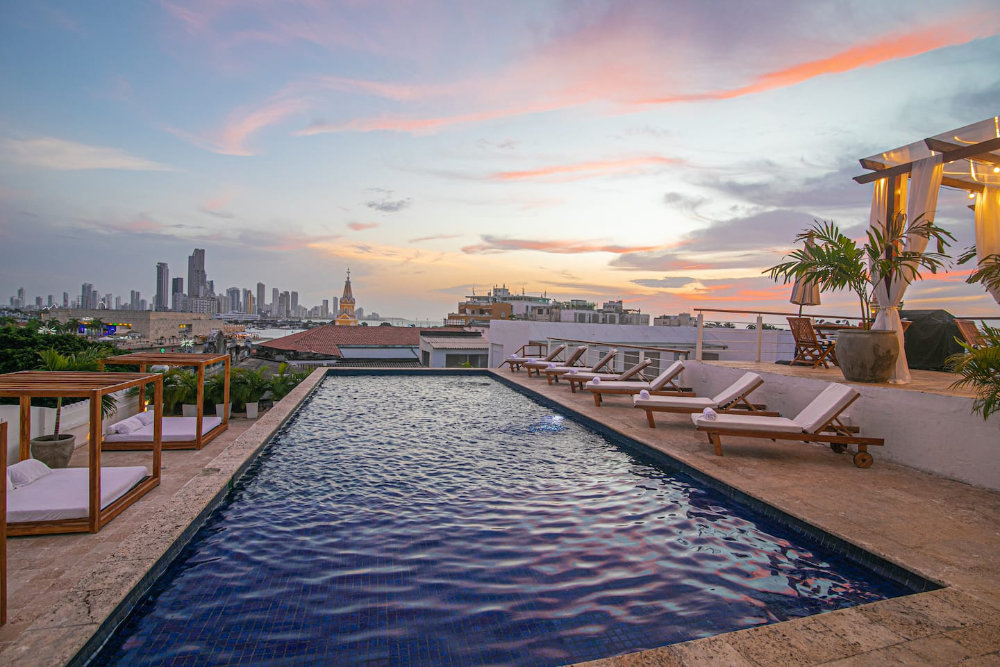 Casa Velero is a beautifully furnished 21 bedroom home, with luxury details, 22.5 bathrooms, a perfect holiday villa situated steps away from the famous "Torre del Reloj" in the center of the Old City of Cartagena, Colombia.
This newly renovated 21-bedroom house, all with private bathrooms, is perfect for your vacation. Get the best of all worlds when you stay at this chic, modern and this spacious home. The well-equipped accommodations put you a few minutes from all the best spots and tasty places in the historic city. With two private pools, a pool table, a spacious living room, and rooftop views, this amazing home is sure to please. The house also comes fully staffed with a butler, a cleaner, a chef, and night security.
Book with CartagenaColombiaRentals.com and you'll be assigned a dedicated bilingual guest service manager. Upon request, we will arrange to stock the refrigerator with food and beverages, a driver to pick you up from the airport, a yacht rental at a discounted rate, to visit the amazing Rosario Islands and everything you need to enjoy the perfect stay.
Arrival time is 3:00 pm and check out is at 12:00 pm. We are happy to accommodate if you arrive before 3:00 pm, as long as the house is available.
Booking confirmation requires a deposit of 50% low season and 100% high season of the total rent.
Refundable Security Deposit of $2000.00 required with booking confirmation.
We will be able to help you pre-stock your fridge before arrival if you would prefer.
Min 3 days
Jan 19 – Mar 27
Apr 06 – Jun 11
Jul 13 – Oct 29
Nov 17 – Dec 22
Min 7 days
Dec 23 – Jan 18
Mar 28 – Apr 05
Jun 12 – Jul 12
Oct 30 – Nov 16