Casa Luly
4 Bedroom (Sleeps 8)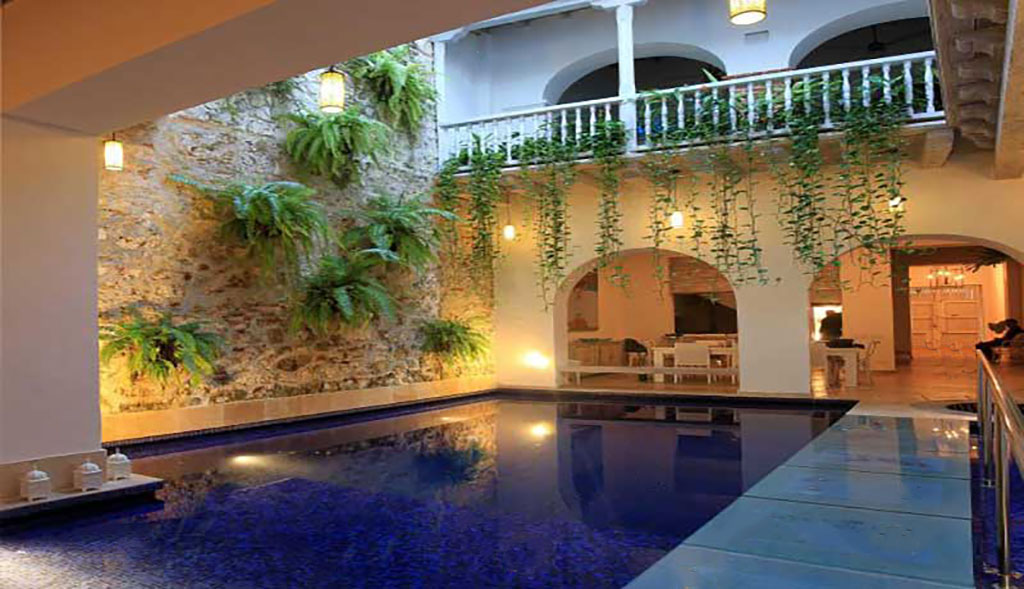 Once a large 17th Century Spanish Colonial mansion, Casa Luly has been converted into a 5,000 square foot luxury escape which blends the charm of a 250 year old home with amenities and conveniences modern travelers expect. If location is a factor in your property selection, Casa Luly sits on the most prestigious blocks within Cartagena's Old City.
Fully redesigned by renowned architect Javier Acevedo, elements of light, air, and water have been beautifully integrated into the home's traditional archways, vaulted beamed ceilings, intricate staircases and cistern.
Guests are greeted at the door by the majestic entry hall and can then meander through the living spaces to the spacious dining area overlooking the pool and lush hanging garden. The translucent glass bridge across the pool leads to a private indoor/outdoor living room equipped with a 50′ flat screen TV and entertainment center.
The kitchen is an ultra-modern addition with 30-bottle wine cooler which can perfectly chill some of your favorites or newly acquire local vintages.
The second level is home to the palatial master suite which features a traditional balcony overlooking the street and providing stunning views of the Cartagena Cathedral. Two additional bedrooms are luxuriously appointed and feature private baths. One room possesses a king-size bed while the other is home to two single beds which can be slid together if necessary.
The spacious common area is also on this second level and overlooks the pool below. With generous seating, a fully-equipped entertainment center, and a bistro for afternoon refreshments or late-night snacks this area is perfect for entertaining guests any time of day or night. But if you really want to make an impression, move the guests up to the spectacular rooftop terrace. It features a Jacuzzi and barbecue with a poshly appointed seating area.
The property sits one-half block from the beautifully restored Teatro Heredia and one block from historic Plaza Bolívar.
All bedrooms are appointed with modern air conditioning and flat-screen televisions.
Casa Luly features daily maid service and a 24-hour caretaker
Arrival time is 3:00 pm and check out is at 12:00 pm. We are happy to accommodate if you arrive before 3:00 pm, as long as the house is available.
Booking confirmation requires a deposit of 50% of the total rent. The remaining 50% to be paid 60 days prior to arrival.
Refundable Security Deposit of $500.00 required with booking confirmation.
Daily maid service is included in the rate.
We will be able to help you pre-stock your fridge before arrival if you would prefer.
Min 3 days
Jan 19 – Mar 27
Apr 06 – Jun 11
Jul 13 – Oct 29
Nov 17 – Dec 22
Min 7 days
Dec 23 – Jan 18
Mar 28 – Apr 05
Jun 12 – Jul 12
Oct 30 – Nov 16