Casa del Artista
4 Bedroom (Sleeps 8)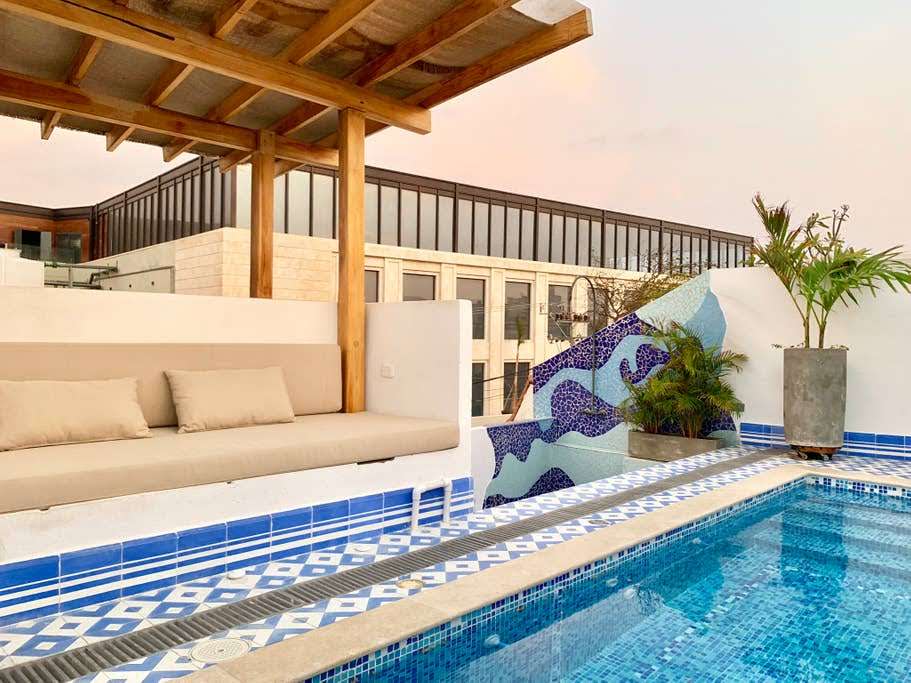 Step into a world of comfort and luxury at Casa del Artista, a quintessential colonial home nestled in the vibrant San Diego area of Cartagena. This residence perfectly blends historical charm with modern conveniences, offering a truly one-of-a-kind stay. Here's what you can look forward to during your visit:
Prime Location: Located just a few steps away from the newly opened Serrezuela Shopping Center, Casa del Artista provides an excellent base for your Cartagena adventure, with easy access to shopping and dining options.
Quaint and Homely Atmosphere: The house exudes a quaint charm, offering open spaces that invite relaxation and tranquility, ensuring a homely feel throughout your stay.
Outdoor Amenities: Experience the ultimate relaxation with the house's outdoor amenities which include two terraces where you can enjoy the pleasant Cartagena weather and a pool to cool off during the warm afternoons.
Steam Room: Rejuvenate your senses in the steam room, a perfect place to unwind and relax after a day of exploring the vibrant streets of Cartagena.
Personalized Service: Enhance your stay with the service of a dedicated housekeeper, who not only maintains the pristine condition of the home but also prepares daily breakfast to your liking. Embrace the opportunity to delve into a traditional Cartagenean food experience guided by her expertise.
Make your Cartagena getaway truly memorable by choosing Casa del Artista, where every moment is steeped in tradition and luxury, offering a retreat that is nothing short of extraordinary. Book your stay now to witness the magic of Cartagena from the comfort of this splendid home.
Arrival time is 3:00 pm and check out is at 12:00 pm. We are happy to accommodate if you arrive before 3:00 pm, as long as the house is available.
Booking confirmation requires a deposit of 50% low season and 100% high season of the total rent. The remaining 50% to be paid 60 days before arrival.
Refundable Security Deposit of $500.00 required with booking confirmation.
We will be able to help you pre-stock your fridge before arrival if you would prefer.
Jan 19 – Mar 27
Apr 06 – Jun 11
Jul 13 – Oct 29
Nov 17 – Dec 22
Dec 23 – Jan 18
Mar 28 – Apr 05
Jun 12 – Jul 12
Oct 30 – Nov 16