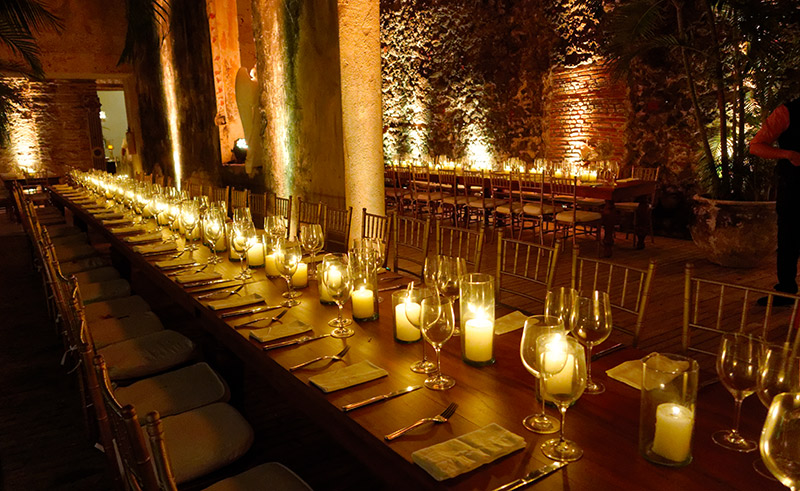 Wedding Reception Ideas
Your destination wedding in Cartagena deserves a reception that's every bit as romantic, as grand, and as unforgettable as the ceremony itself. Thankfully, there's a picturesque reception venue on nearly every street corner in the Old Walled City of Cartagena. These locations offer everything you might need to make your guests comfortable (and a little bit envious) while you and your loved one celebrate your first evening as a legally wedded couple as opulently (or as quaintly) as you've always dreamed of.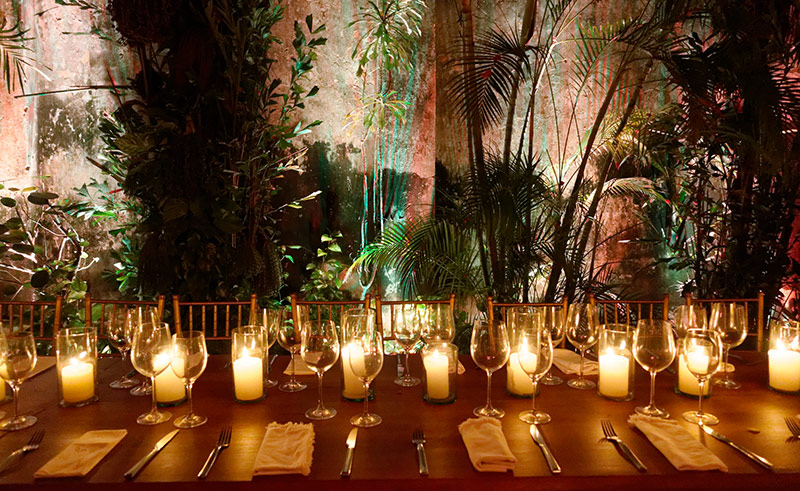 Planning your Wedding Reception
If you're planning on getting married in Cartagena, the ceremony is only a part of the entire experience. When your wedding venue is so exquisite, how can you top it for the reception? While Cartagena has a ton of great wedding reception venues (including restaurants and dance clubs that are available for rental) many of the best locations are under the Caribbean sky.
Wedding Reception Venues El Baluarte San Francisco Javier
This trendy and popular location actually sits high atop the wall that surrounds Cartagena's Old City. From here you can gaze out into the harbor and feel the gentle sea breeze on your face. It's a great place for an afternoon cocktail and the view is utterly unique—perfect for wedding photo ops.
On a regular night you'll find excellent cocktails, tasty bites to nosh, and maybe even some live entertainment. On your wedding night you can turn El Baluarte San Francisco into anything you want. The venue is available for rent and they even have an in-house event planner!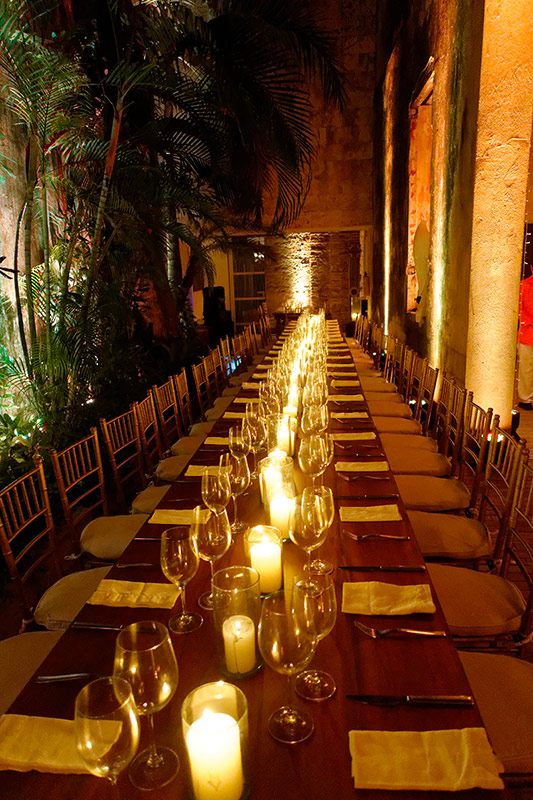 Sofitel Legend Santa Clara Hotel—Luxury Abounds
The Sofitel Legend Santa Clara Hotel offers amazing architecture that dates back over 400 years. A former convent (built in 1621) this luxury hotel retains all the best qualities of that Spanish Colonial architecture and marries them with all of the luxurious touches a modern bridal party could need. Gorgeous reception rooms, high-quality suites and dressing rooms, and an attentive staff make hosting a reception at the Sofitel stress-free.
And let's not forget that this amazing structure offers some of the best wedding photo backdrops anywhere in Cartagena—including the rooftop terraces with views out over the city!
The Sofitel can also provide other essentials like a reception brunch, catering, cocktail hours, and more as the venue is perfectly appointed for parties from 20 to 200. And all of these services are available whether or not your wedding party stays at the hotel.
Of course, you can find many boutique hotels in the Old City perfectly suitable for your dream wedding reception. While each hotel of this sort offers something unique (like amazing views and stunning appointments) there are also drawbacks (like limited attendance). If you're planning a reception at one of these smaller hotels, make sure you do your research first.
Casa 1537—All Inclusive or à La Carte
This breath-taking wedding reception venue offers 9 distinct reception halls from which to choose with various configurations and guest capacities over two interior floors and a third-floor terrace in this lovingly restored historic building. Casa 1537 even has an intimate patio perfect for outdoor ceremonies and receptions that are sheltered from the elements (and public view). With modular table options to choose from, you can easily accommodate between 12 and 800 guests in luxurious surroundings—including custom-made bespoke furniture unique to Casa 1537.
But Casa 1537 isn't just about the location. This is a full service celebration venue offering:
• Decoration (including floral arrangements)
• Catering
• Bar service
• Audio/Visual entertainment
• And more
The restoration of this beautiful Spanish Colonial building in 2010 resulted in the installation of state-of-the-art technology—including thermos-acoustic doors and windows for insulation and unobtrusive air conditioning for quiet comfort throughout. This investment has truly made the first exclusive event center within the walled city of Cartagena de Indias.
Your Own Luxury Vacation Rental Home for your Wedding Reception
Whether for practical reasons or just for comfort, many couples opt to hold small, private wedding receptions in their own luxury vacation rental homes in Cartagena. Indeed, any of our vacation homes inside the Walled City can be outfitted for a wonderful wedding reception. Most feature rooftop terraces and water features that turn any party into a glamorous soirée. Depending on which home you've chosen for your vacation in Cartagena, you can invite between 20 and 100 people home with you to celebrate.
And if you are planning one of these cozy receptions, our complimentary concierge service can help you locate and secure staffing—servers, caterers, bartenders, photographers, DJs and more.
Arrive in Style
And if you want to make an even more unforgettable impression, that starts with the first impressions. While limos are the wedding transportation of choice elsewhere in the world, in Cartagena many brides choose a more authentic and romantic option—the horse-drawn carriage. You'll no doubt see basic versions of these carriages around the city wherever you go. However, for weddings, many companies offer exclusive luxury carriages and coaches with beautifully groomed and pampered horses to lead the way. Imagined you and your wedding party arriving at your wedding reception or traveling from the ceremony to your destination reception in the lap of luxury while seeing and being seen!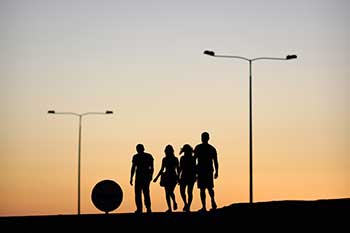 Cartagena Old City Wall
Walking around the wall at sunset. Amazing. A must do!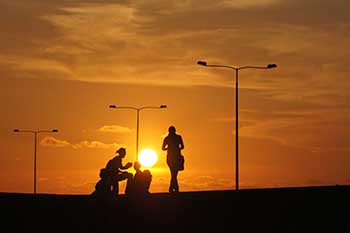 Sunset in Cartagena Old City Wall at Sunset
Friends gathering to watch the sunset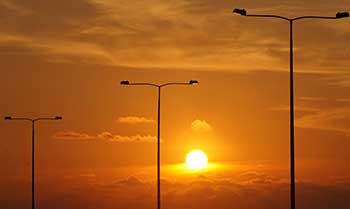 View from Cartagena Old City Wall at Sunset
Optical Illusions at Sunset in beautiful Cartagena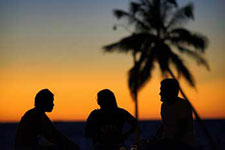 Old City Wall at Sunset
Chilling by Cartagena Old City Wall at Sunset