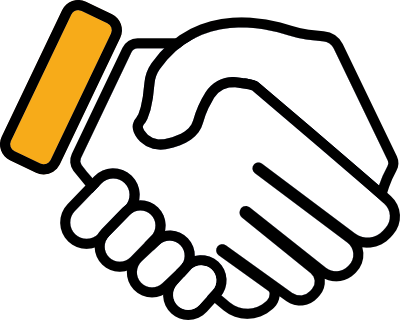 Extend Your Luxury Vacation Experience in Cartagena with Fast Track VIP Airport Service on Arrival and Departure
"A fast-paced transition through immigration with priority access"
When you book one of our luxury vacation rental homes in Cartagena, you expect nothing but the best. Now you'll get VIP fast track airport service as well. You're not just planning another vacation, and you're planning an escape. So let us help from the moment you step off the plane.
A beautifully restored home or historic villa updated with modern amenities in the heart of Cartagena's vibrant cultural heart is just the beginning. Part of completing that first-class experience is the personal care you'll receive while you're here. Our complimentary concierge service is available to you 24/7. All you have to do is call. Your team of local experts can arrange everything from car service and dinner reservations to day trips and excursions to sites in and around Cartagena for you and your travel companions. You relax, refresh, and explore while we care for the details. But we aren't content to pamper you while you're here. That's why we've now extended our exclusive concierge service to you before you even arrive (and even after you leave). In addition to the first-class personalized service you've come to expect when you book with us, we now provide exclusive customized Fast Track VIP service at the airport.
Your VIP assistant will be at your service when you step off the plane. There to greet you with a warm welcome and a smile, our assistants are specially selected and trained to make you feel completely comfortable, relaxed, and at ease during your arrival process.
Whether you're coming to Cartagena for business from within Colombia or visiting us for a once-in-a-lifetime vacation getaway from The United States, Europe, or Asia, you'll receive that impeccable First-Class treatment regardless.
Upgrade Your Arrival
A fast-paced transition through immigration with priority access
Elevate your travel experience with our VIP airport service, including priority access and a fast-paced transition through immigration. This service ensures that you can navigate immigration smoothly and efficiently, starting your trip off with minimal stress.
If you would like to take advantage of this service, simply fill out the form below and we will review and get back to you shortly.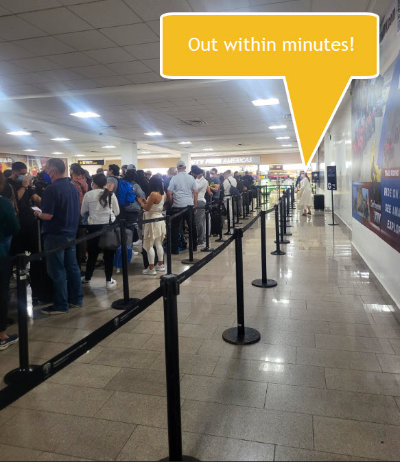 For Arrivals at Rafael Núñez Airport
Traveling can be a hassle. It can be such a comfort to see a smiling face in the sea of people rushing through an airport. But our VIP assistants provide so much more than a warm welcome. When they take you into their care at the arrival gate, you know you won't have to worry about anything.
We provide:
• Gentle, respectful handling of all your luggage.
• A fast-paced transition through immigration with priority access and more.
• Aided random and priority fast passage through customs.
• Personalize companionship and assistance through Rafael Núñez Airport to your chosen ground transportation.
We can even help you with any last-minute purchases you might need to make at the airport before leaving for a fun-filled escape at your luxury vacation home in Cartagena.
Plus, because all our VIP assistants are local experts, they can easily share recommendations about places to visit, restaurants to experience, entertainment venues to make your stay unforgettable, and more.
Again, this level of VIP service extends to our international guests as well as our domestic visitors.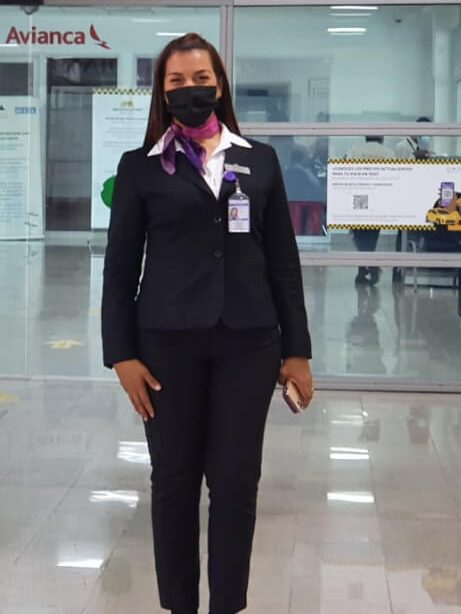 For Departures at Rafael Núñez Airport
We're sure your vacation in Cartagena will be unforgettable. Whether you visit historic Spanish Colonial forts, churches, sandy beaches, or our sultry nightclubs and restaurants, you'll no doubt have experiences you'll remember for a lifetime. We want you to hold onto those special memories. The last thing you need is the stress and hassle of struggling through an airport at the end of a fantastic stay to taint them. That's why we also provide an exclusive personalized VIP experience for departures.
You'll receive the same level of personalized care and attention you did upon your arrival, including:
• A warm greeting from our friendly assistants at the airport entrance
• Efficient assistance to the priority line of your choice.
• Personalized expedition of the check-in and retrieval of your boarding pass.
• Careful handling of your luggage.
• Accompaniment through immigration (where your host will take your place in line and wait, so you don't have to)
• Warm wishes for safe travels when it's time for you to pass through security and board your plane.
We can also assist with any shopping you might like to do at any of the airport venues before boarding.
However, because you are our guest here in Cartagena until those wheels leave the runway, we've also delivered premiere access to the VIP Lounge for you and your travel companions.
Access to the VIP Lounge at Rafael Núñez Airport
The VIP Lounge at Rafael Núñez Airport offers a comforting, quiet, first-class environment where you can relax while waiting for your flight. The lounge is full of the sorts of amenities our classy guests expect, including:
• Several televisions tuned to various channels of interest
• Complimentary high-speed Wi-Fi Internet access
• Free beverages
• Air conditioning
• Cocktails, beer, wine
• Snacks
• Complimentary newspapers and magazines
• And an attentive staff there to take care of your needs
The lounge also offers what may be the most luxurious amenity in the airport as well: space. (That's VIP enough in itself.) you'll not be crowded with hundreds of other travelers while waiting.
Make the Traveling a Part of Your Cartagena Vacation
Often, traveling can be the worst part of a vacation. Long flights, crowded airports, hectic taxi stands, brutish luggage handlers—it all can spoil what would have otherwise been a fantastic vacation. But you don't have to worry about that. We'll make your arrival and departure process smooth, seamless, and effortless. Our professional VIP hosts will ensure that your comfort and care are their top priorities.
It is our goal for this one-on-one service to make you feel as if the entire city of Cartagena is welcoming you—because it is! And when you leave, we want you to know that we're sad to see you go and can't wait to have you back.