Casa La Cartujita
7 Bedroom (Sleeps 14)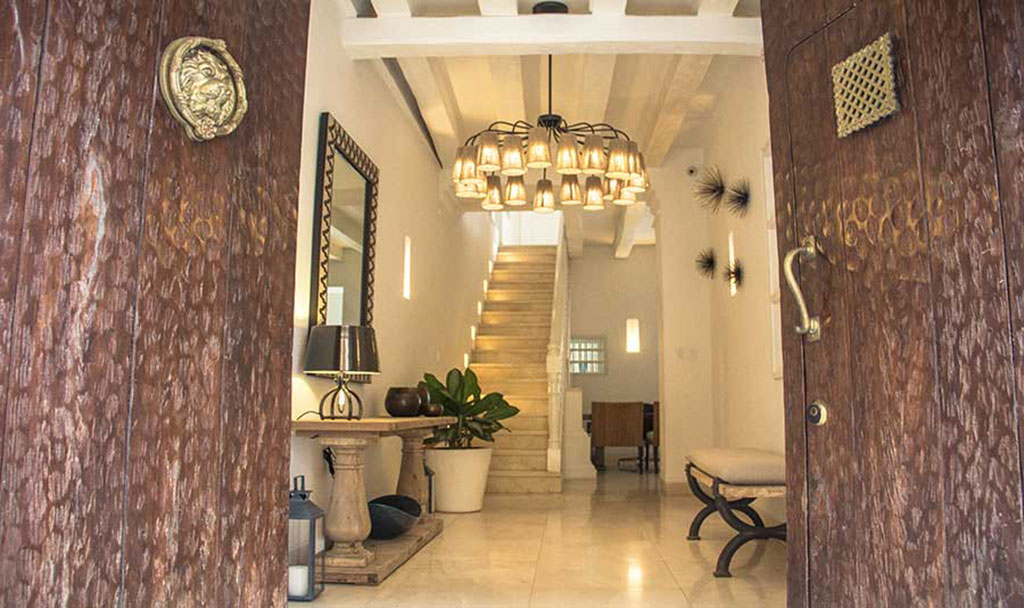 This charming luxury boutique hotel is for is rent in its entirety. Located in the heart of Cartagena de Indias, this property is one of the most sought after "Casas" we offer.
The interior spaces offer chic sophistication with a simplistic color pattern that's more modern than Colonial. The third floor terrace solarium features a Jacuzzi and is a wonderful place to enjoy an expertly prepared meal under the stars or enjoy the cool sea breezes while sipping icy beverages prepared by the well-trained staff.
The fully equipped gourmet kitchen is staffed by experts who can tempt even the most discerning foodie's palate. Casa La Cartujita provides daily complimentary American breakfast and food and beverage options throughout the day. However, guests are able to reserve the kitchen for a one-of-a-kind personalized dining experience unmatched anywhere else in Cartagena.
Casa La Cartujita is an intimate space, sleeping up to 14 guests. All 7 bedrooms feature private en-suite bathrooms and are fully equipped with 5-star modern amenities, luxurious linens, and elegant fixtures.
Casa La Cartujita is staffed by well-trained individuals including a full-time Housekeeper and Chef
Arrival time is 3:00 pm and check out is at 12:00 pm. We are happy to accommodate if you arrive before 3:00 pm, as long as the house is available.
Booking confirmation requires a deposit of 50% of the total rent. The remaining 50% to be paid 60 days prior to arrival.
Refundable Security Deposit of $500.00 required with booking confirmation.
We will be able to help you pre-stock your fridge before arrival at Casa La Cartujita if you would prefer.
Less than Full House Occupancy. Please request a quote via the Contact Form below:
Min 3 days
Jan 19 – Mar 27
Apr 06 – Jun 11
Jul 13 – Oct 29
Nov 17 – Dec 22
Min 3 days
Jan 19 – Mar 27
Apr 06 – Jun 11
Jul 13 – Oct 29
Nov 17 – Dec 22