Casa Schumacher
5 Bedroom (Sleeps 10)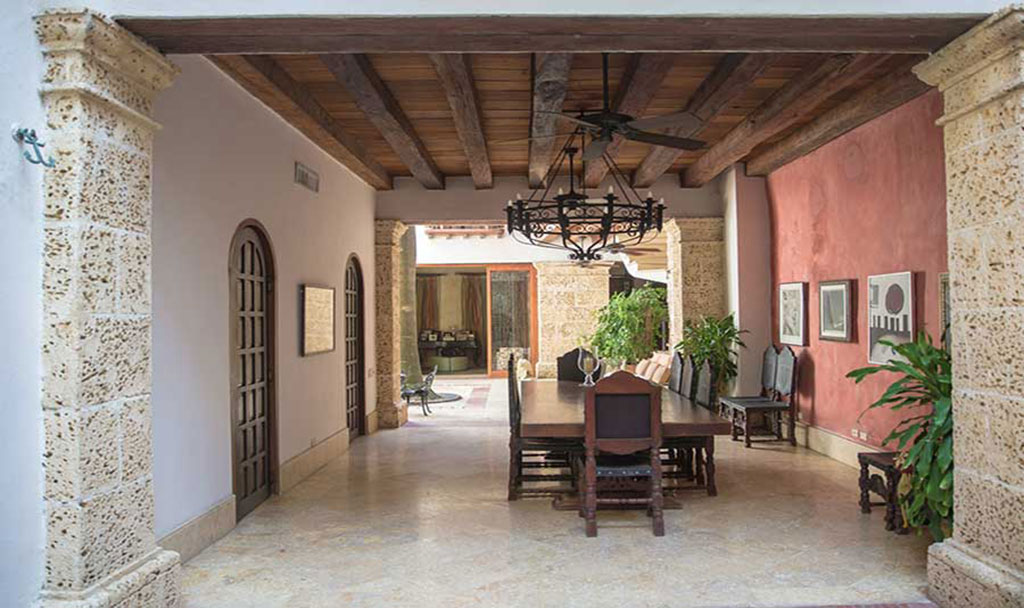 Casa Schumacher is the epitome of luxury living in Cartagena's historic Old City. This 5-bedroom Colonial-era home rental is over 250 years old. Steeped in history and tradition, Casa Schumacher has undergone a delicate remodel to add modern conveniences and amenities you'd expect without compromising its Colonial charm. The property rental is ideal for vacationers visiting Cartagena for the first time or for business travelers who want a more authentic experience than can be had in a high-rise hotel.
Casa Schumacher sits along the Calle Don Sancho, an exclusive street rich with rich history and authentic Colonial style. Centrally located, the property is just steps from the exactingly restored Teatro Heredia and the 400 year-old fortress walls built by Spaniards to protect the empire's gold and emerald trade from pirates and profiteers. On the alternate side of the ramparts the beautiful blue gem of the Caribbean Sea awaits, allotting guests breathtaking views from the mirador (with its 10-person Jacuzzi) or from the spacious balcony at the front.
Situated close to the sea, this property enjoys the gentle sea breezes and stunning views, making it one of the most comfortable and relaxing homes in the city. Masterful Colonial-era architecture creates natural air conditioning which captures those sea breezes to cool the home in the heat of the day. However, each room also has discreet Hunter overhead fans and modern but unobtrusive air conditioning units with individual temperature controls.
The property also features excellent outdoor areas: two patios (one at the front and one in the rear) both of which are beautifully accented by royal palms. One features a gorgeous cascading water fountain which plays in the light and adds soothing sound.
Each room in Casa Schumacher has been uniquely designed with its own theme and color scheme achieved through use of vibrant paints, designer fabrics, and custom-laid flooring of Pompeya tiles or coralina stone. Accented by authentic antique furniture and art works every room offers an escape from reality.
The house has been fully retrofitted for a modern lifestyle and is equipped with direct internet in most of the bedrooms, a fax machine, and a Bose surround sound system in the master bedroom.
The attention to detail extends to the kitchen as well. It features a large 6-burner steel stove, an extractor, microwave, espresso machine, and a wine cooler—everything you need for a sophisticated cooking experience and perfect for preparing meals for two or large dinner parties.
And for dinner parties, the Colonial dining room table seats 12. Many more can be seated on either or both of the patios as well, making Casa Schumacher perfect for hosts who need to entertain large groups of guests during their stay in Colombia.
Guests are served by two discreet and well-trained staff members. The lady functions as the general housekeeper and as well as cooking breakfast as needed. The gentleman handles heavier jobs, runs errands, and functioning as 24-hour security.
Arrival time is 3:00 pm and check out is at 12:00 pm. We are happy to accommodate if you arrive before 3:00 pm, as long as the house is available.
Booking confirmation requires a deposit of 50% of the total rent. The remaining 50% to be paid 60 days prior to arrival. Please notice the Higher New Year's Rates in the Calendar
Refundable Security Deposit of $500.00 required with booking confirmation.
Daily maid service and preparation of breakfast is included in the rate. However, just keep in mind the actual food is not.
We will be able to help you pre-stock your fridge before arrival if you would prefer.
Min 3 days
Jan 19 – Mar 27
Apr 06 – Jun 11
Jul 13 – Oct 29
Nov 17 – Dec 22
Min 7 days
Dec 23 – Jan 18
Mar 28 – Apr 05
Jun 12 – Jul 12
Oct 30 – Nov 16