Casa La Palmera
6 Bedroom (Sleeps 12)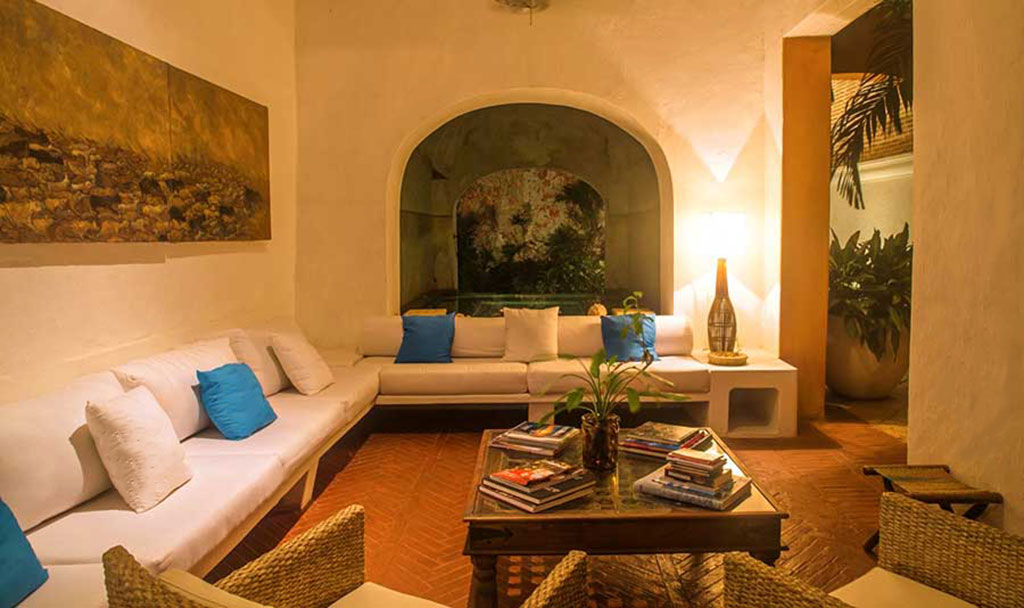 This beautiful house for rent has 6 bedrooms all with private bathrooms and the capacity to sleep 12 people. Casa La Palmera is located in the historic center of the San Diego district of the old city of Cartagena de Indias.
The property comes with air conditioning, LCD and fans.
A full-time live-in housekeeper who can ensure your stay in Cartagena is perfect.
Casa La Palmera has a number of unique features including 'chill out' pools around the sitting areas. The house has a gorgeous courtyard with lots of foliage giving a fresh and airy feeling.
On the third floor of Casa La Palmera is a rooftop Jacuzzi with a view of the historical center with a perfect sun worshipers terrace.
Arrival time is 3:00 pm and check out is at 12:00 pm. We are happy to accommodate if you arrive before 3:00 pm, as long as the house is available.
Booking confirmation requires a deposit of 50% of the total rent. The remaining 50% to be paid 60 days before arrival.
Refundable Security Deposit of $500.00 required with booking confirmation.
Daily maid service and preparation of breakfast is included in the rate at Casa La Palmera. However, just keep in mind the actual food is not.
We will be able to help you pre-stock your fridge before arrival if you would prefer.
Min 3 days
Jan 19 – Mar 27
Apr 06 – Jun 11
Jul 13 – Oct 29
Nov 17 – Dec 22
Min 7 days
Dec 23 – Jan 18
Mar 28 – Apr 05
Jun 12 – Jul 12
Oct 30 – Nov 16