Casa Italia
4 Bedroom (Sleeps 9)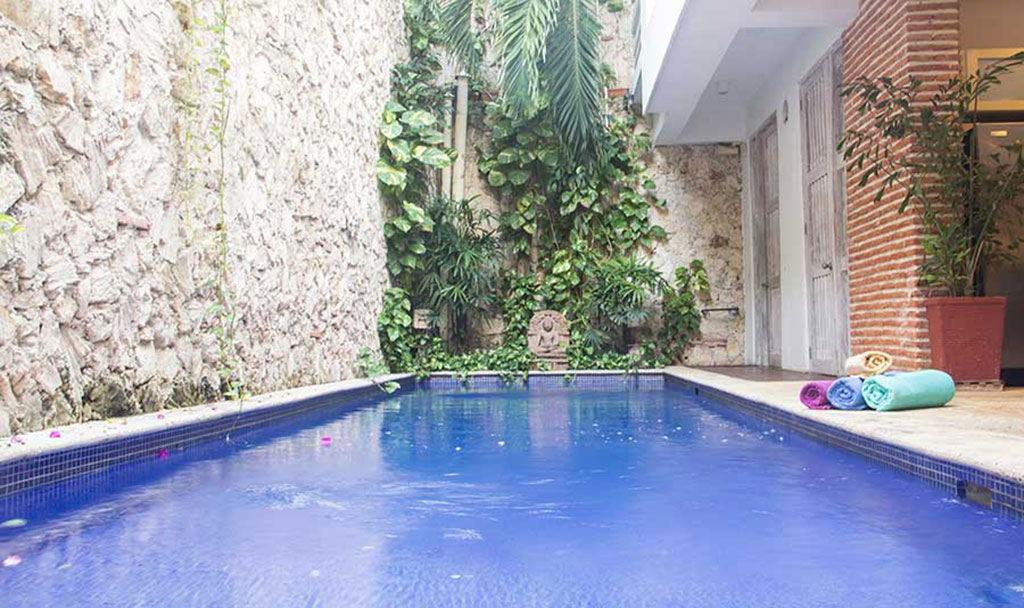 Casa Italia is a historic Colonial-era home rental house that has been passed down through generations of the same family for the last 250 years. It has recently undergone complete contemporary remodeling, perfectly blending its traditional style and elegance with modern amenities.
This three-story luxury property features a modern open-floor plan in simplistic treated and whitewashed wood. Accented with Indian antiques and red brick, the home has four roomy bedrooms and accommodates up to nine guests comfortably.
Each of the four luxurious bedrooms is dressed with 800-thread count linens. Attached coral-stone bathrooms bring nature inside and feature delicate fixtures and fittings.
Casa Italia's Master Bedroom is truly the jewel of the property with an intricate hand-carved wooden Hindu headboard reflecting the exotic décor throughout the house. The master opens onto a large balcony draped in Bougainvillea and overlooks a charming street in the Old City's San Diego district. The perfect place for morning coffee or a late-night cocktail, the balcony allows guests to see Cartagena from a new perspective.
The three remaining rooms house a standard double, two singles, and three single beds, respectively. The last is located at rooftop level, next to the rooftop terrace from which guests can watch Cartagena come to life when the sun goes down. The Casa Italia terrace includes a private Jacuzzi (mirroring the long sapphire-coloured pool at ground level) and public barbeque area perfect for hosting intimate dinner parties for friends or even more intimate parties for partners.
The ground level is where you'll find the well-appointed kitchen (the perfect place to learn a little Caribbean cooking during private classes which can be arranged during your stay). The pool area is magnificent as well and has hosted some of Cartagena's most memorable social events. With plenty of room for all your guests, this area makes entertaining friends (old and new) a breeze.
Casa Italia employs two staff members who are on-hand whenever you need them, able to attend to your every need.
Arrival time is 3:00 pm and check out is at 12:00 pm. We are happy to accommodate if you arrive before 3:00 pm, as long as the house is available.
Booking confirmation requires a deposit of 50% of the total rent. The remaining 50% to be paid 60 days before arrival. New Year's Rate is Higher. See Calendar
Refundable Security Deposit of $500.00 required with booking confirmation.
Daily maid service and preparation of breakfast and lunch are all included in the rate. However, just keep in mind the actual food is not.
We will be able to help you pre-stock your fridge before arrival if you would prefer.
Min 3 days
Jan 19 – Mar 27
Apr 06 – Jun 11
Jul 13 – Oct 29
Nov 17 – Dec 22
Min 7 days
Dec 23 – Jan 18
Mar 28 – Apr 05
Jun 12 – Jul 12
Oct 30 – Nov 16