Luxurious Caribbean Vacations
It can be challenging to come to terms with its financial aspect when it comes to justifying a luxurious Caribbean vacation, especially when you consider all of your day-to-day expenses. And while we expect to spend a significant chunk of change on a vacation getaway, nobody likes being taken advantage of, and most of us enjoy finding a good bargain. So if you're considering an escape to our little Caribbean paradise, you're right to ask if taking a vacation in Cartagena is expensive?
The answer to that question—like so many others—depends on you. Are you going to splurge on a once-in-a-lifetime experience while you're here? Are you here to get the most out of your experience without worrying about bragging rights?
A vacation in Cartagena (or anywhere else, really) can be as expensive or affordable as you choose to make it. But we can tell you that your money will get you more than you likely bargained on here in Cartagena.
Cartagena Affords Affordable Luxury
In terms of total costs—based on the fair market price of things ranging from food to accommodations, to touristy excursions and such—Cartagena (and Colombia in general) is one of the most affordable countries to visit in all of South America. Of course—as is the case with any tourist destination in any part of the world—prices will fluctuate based on the season you visit, the demand for those goods and services you're buying, and the availability of those same.
But the fact that Cartagena is such a popular tourist destination is also a bit of a boon for vacationers because there are tons of offers out there to get cheaper rates, flights, dining, entertainment packages, and just about everything.
And when it comes to the experiences you'll have here in Cartagena; you'll be able to enjoy the best—even if you're on a budget. This melting pot of cultures offers visitors the best of everything you need to have an unforgettable escape: world-class food, beautiful beaches, emotionally touching historical and culturally significant sites, breathtaking architecture, beautiful people, tropical jungles, ancient ruins, fantastic nightlife, and so much more.
How Much are Flights to Cartagena?
The answer to that question hinges upon a few critical aspects.
How far away are you flying from?

You can usually snag flights to Cartagena from The United States on bargain airlines like Spirit, LATAM, and COPA, leaving Fort Lauderdale, Florida, for around $70. You can also find similar flights from nearby ports of call like Atlanta and Miami for just a few dollars more.
Flights from farther away in the States (such as East Coast locations like New York City and New Jersey's Newark Airport) can run you from just over $100 to several hundred.
International flights are going to be significantly more—perhaps a thousand dollars or more. (For Example, a KLM flight from London to Cartagena in August will cost roughly GBP 500—or $700.)
However, consider making a stopover in The US as part of your vacation. Spend a day or two Stateside and make that extra spend worth it.
To find the most affordable flights to Cartagena, visit our Flights to Cartagena page.
The Cost of a Luxury Cartagena Trip
As mentioned above, Cartagena is a great place to spread your vacation dollars. If you want a truly luxurious experience, one of our vacation rental homes in Cartagena—either in or minutes from the Walled City—will turn your Caribbean escape from average to unforgettable. And the best part about our luxury vacation rental homes in Cartagena is that they hold multiple guests comfortably. That means you can travel with friends or family in the lap of luxury without putting too much pressure on your pocketbook.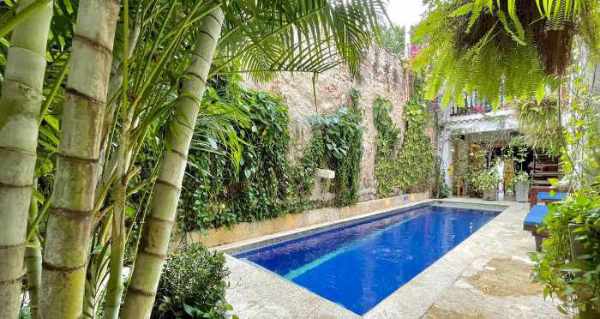 Share the cost evenly, and you could be staying in an amazingly renovated Spanish Colonial home with a rooftop veranda and a private pool for the same as you'd shell out for a cookie-cutter hotel room at a resort.
Find your dream vacation rental home today and start planning your (surprisingly) affordable vacation in Cartagena today.
A Night on the Town: The Price of the Nightlife in Cartagena
The nightlife starts well after the sun goes down, and typically, none of the nightclubs or bars start hopping until midnight or even later. That gives you time to make the most of your day in the sunshine, have a little siesta, then get ready for dinner, dancing, and drinking.
The best places for visitors to have fun are within the historic walls of the Old City or in the fun and funky neighborhood of Getsemani. Here you'll find a tone of restaurants, bars, nightclubs, and more music than you can shake your can-can too. These areas are fun with beautiful people from all over the world who are ready to cut loose—just like yourself!
Prices at the local places are cheaper than you might expect—though keep in mind this is still a tourist town. For Example, a nightclub might charge a cover to get through the door, but it's rarely higher than $15. You can get a beer from anywhere between one dollar and $6. Wine and liquor will be more, but you can some by buying a bottle (with prices ranging from just $30 to around $200).
And since you're here for the experience, why not party like a local? Stick with locally produced offerings like Caribbean rum drinks—they're tasty and probably the cheapest thing you'll find on the menu.
And the best part about the nightlife in Cartagena is that you have so many options. From high-end clubs to divey little backpacker bars, the choice is yours. Just remember, the locals and visitors alike dress to impress when they go out—a flashy dress or button-down shirts are the uniforms of choice.
How Expensive are the Restaurants in Cartagena?
One of the most attractive aspects of vacationing in Cartagena is the food. There are hundreds of places you can eat, offering a tremendous variety of foods from various gustatory cultures worldwide. You'll find Italian, Asian, South American, Cuban, and so much more pretty much anywhere you look.
And nothing is stating you can't mix and match $5 ceviche at a seaside shack with a $70 ribeye steak at a shirt-and-tie fine dining establishment, either.
Even if you're on a budget, we suggest spending a little more every so often to experience at least some of the high-end dining you'll find here.
Chefs come from all over the world to deliver tasty treats in swanky settings that you can only truly experience here.
Again, the good thing about the food here is that it's often affordable even when you're dining at one of the best restaurants in town. Plates can range from $12 to USD 60, but you can get more bang for your buck by snagging multiple appetizers and small dishes rather than opting for a traditional entrée. That way, you get to sample a little of everything and spend roughly half of what it would cost you otherwise.
Want to know where (and what) to eat? Check out our handy dining and drinking guide to Cartagena.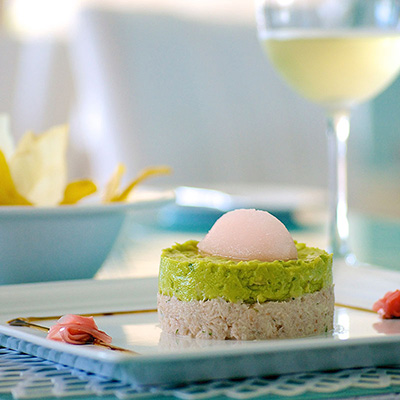 Cartagena is Your Affordable Luxury Vacation Destination
The conclusion is that Cartagena offers tremendous value to vacationers who are looking for a genuinely luxurious experience without paying the total retail price. While you can sure come to Colombia and spend all the money you want, with discounted travel packages, affordable accommodations, and amazingly affordable food and entertainment options, Cartagena offers an experience on par with American and European destinations at a fraction the price. And if it's one thing we can all agree upon, it's that any good vacation should make you feel as if you've spent your money well.