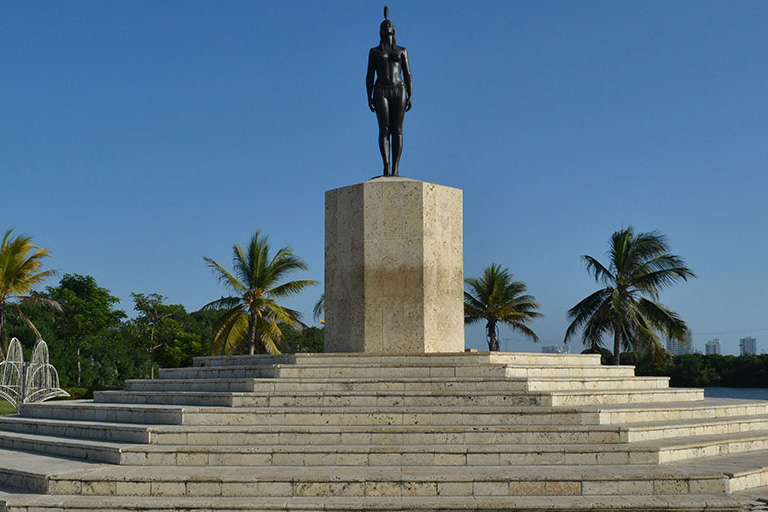 The Symbol of Spanish Colonial Cartagena
She's become something of a tragic heroine in the history of Colombia but few outside Cartagena know the story behind this iconic woman. Her real name is lost to history but India Catalina (as she was called after being catholicized by Spanish Conquistadores) stands out–much like Pocahontas or Sacajawea in North America–as both a proud symbol of native culture and a sad reminder of European Colonialism.
Her brush with history began in 1509 when Diego de Nicuesa launched an attack on coastal Colombia. The young girl who would become an icon was taken hostage from the Calamari people by Nicuesa himself and transported from her home in Galerazamba (modern day Santa Catalina) to Santo Domingo where she lived a slave, consort, and eventually a veritable Spanish lady for twenty years. But her Spanish captors had bigger plans for her than the life of a serving girl.
She was rapidly integrated into Spanish culture by her "host" family learning the language and the religion. It was around this time that she came into contact with Pedro de Heredia–the man who would become the founder of Cartagena and, eventually, her father-in-law. He became interested in her ability to speak both the Spanish tongue and those of the native tribes of the Colombian coast.
She sailed with Pedro de Heredia when he made his foray into the countryside that would eventually become Cartagena and the surrounding area. They landed on January 14th, 1533 and India Catalina immediately took up her role as interpreter and peacemaker she attempted to broker deals on Pedro de Heredia's behalf with the local caciques or chieftains including Corinche–the man notorious for double crossing de Heredia and leading him into an ambush.
A Symbol of Pre-Columbian Culture
Archaeologists have found native artifacts in the region that has been carbon dated back as far as 7000 BC. These Tayrona peoples eventually gave birth to (and merged with) several other native tribes including the Carex, Caribe, Bahaire, Cospique and Yurbaco.
However, the Kalamari or Calamari tribe (from which India Catalina was kidnapped) was the dominant native force in the region at the time Pedro de Heredia and his Spanish cohorts decided to settle the Colombian Caribbean Coast. In fact, some modern Cartagenans (most of whom live in the neighborhood of Pie de la Popa) can trace their lineages directly back through 500 years of history to the original Kalamari tribespeople. Of course much of their culture has been lost as they absorbed European ways and new technology but that ancient genetic pull is still strong today.
India Catalina's Lasting Legacy in Cartagena
Over time India Catalina's legend grew and she became a sort of folk hero representing the native peoples in the region. She's been idolized for centuries and in 1974 a larger than life statue was commissioned from Eladio Gil Zambrana. The statue depicts India Catalina bare-breasted, wearing a traditional native headdress as she stares off into the sky. Zambrana has been praised for the look of both innocence and sadness he captured on the sculpture's face.
A symbol of the first nation of Cartagena, the image has been adopted by numerous organizations including Cartagena Film Festival which uses miniature versions of India Catalina as awards for outstanding South American films every year.
If you're vacationing in Cartagena you'll undoubtedly see her image almost anywhere. However, I recommend that you tailor your sightseeing in Cartagena so that you pass through the intersection of Pedro de Heredia and Venezuela Streets in the heart of the city where you can see Zambrana's breath-taking original statue.